Why you should consider a luxury rehab for your treatment
Reviewed by: Rajnandini Rathod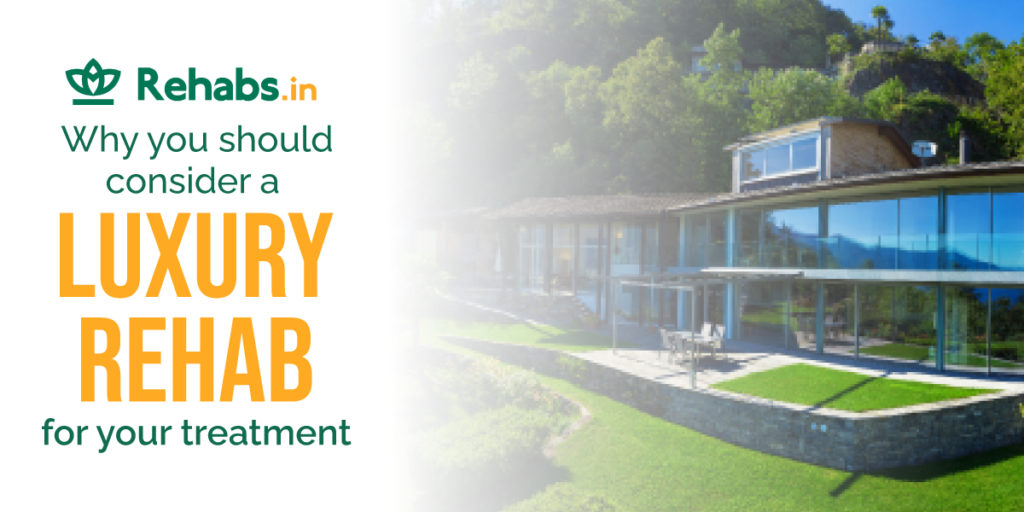 When you hear the term "luxury rehab", probably what comes to mind are celebrities lounging by the pool. It may seem like luxury rehabs are nothing but luxury resorts for the rich and famous to unwind. However, once you visit one of these luxury rehabs, you will realize that it's much more than that.
Let's discover what makes luxury rehab different from a basic rehab centre and why you should consider it for your rehab treatment.
Difference between luxury rehab and basic traditional rehab centres
The process of de-addiction from drugs and alcohol can be quite a gruelling process. It takes a toll on your physical and emotional well-being. During this rough phase of your life, your environment can make a major difference to the healing process. Luxury rehabs' provide that perfect and peaceful environment that makes this difficult time much more bearable. Following are some of the differences between a luxury rehab centre and a basic traditional rehab centre.
| | | |
| --- | --- | --- |
| Amenities | Luxury rehabs | Basic rehabs |
| Location | "Luxury rehabs" are often situated out of city limits, usually in an idyllic and peaceful place like a hill station or the beach. Luxury rehabs that are located within the city are well appointed with beautiful open spaces. The abundant natural beauty around can be a big factor in the overall healing process. | Most basic rehab centres are often located within the city, and a lot of them are within hospital premises. They are often small spaces consisting of a single building or a single ward. |
| Accommodation | Beautifully furnished single occupancy rooms with private bathrooms. Some also have suite options. | Some centres have a dorm or hostel-style sleeping arrangements, and some have rooms with double occupancy. Rooms are basic and might not have any private bathrooms. |
| Food | A private chef will make food customized to your taste and preference. Even the buffet options here are of top restaurant quality. The food offered is healthy and tasty. | Patients have to eat whatever is available at the mess/canteen. Food is often nutritious, although not necessarily exotic and tasty. |
| Patient count | The density of patients is usually low so that every patient gets quality care and attention from the doctors, psychotherapists, as well as in-house staff members. | The density of patients is usually high, which often leads to fewer one-on-one interactions with the doctors or support staff. |
| Access to therapist | Patients can often access their therapists outside the regular sessions as most therapists stay in-house within the rehab centre. So, if one feels particularly anxious and needs counselling, then they can avail for it without a prior appointment. Of course, the therapists do have their rest hours, and it's not a 24×7 service. However, knowing their therapist is on-premises gives most patients comfort. | Most doctors and therapists are there on a rotational basis with fixed hours. |
| Qualification of the therapists and staff | The psychotherapists, clinicians and doctors employed with "luxury rehabs" have multiple master's degrees from prestigious universities within and outside the country and have years of experience. Even the support staff are highly trained and have multiple skill sets. They can handle situations like panic attacks and temper tantrums gently and swiftly. | Many of the psychotherapists, clinicians and doctors working here are often highly trained. The only difference is that they might not have as much experience. |
| Holistic treatment with recreational activities | Most luxury rehabs offer a holistic approach. Along with detox programs and counselling sessions, they may also offer meditation and yoga sessions, art programs, music sessions and indoor and outdoor games. | Some rehab centres may offer some yoga or physical fitness sessions. When it comes to recreational activities, they could have access to basic games like carrom board or badminton or watch movies. |
Limitations of a luxury rehab
Cost: One could say that the biggest downside of a "luxury rehab" is the cost of treatment. If money is of concern, then getting treated at a luxury rehab can be very exorbitant. The fee may rise if activities like spa sessions, music sessions, personal training, etc., are charged extra.
Accessibility: Luxury rehabs are usually out of the city centre, and sometimes this may make patients feel like they are cut off from the rest of the world. Getting back to the city or back home may require adequate planning for transportation which your rehab is likely to help you with.
Too comfortable: It's easier to concentrate on therapy sessions and implement what you learn from them in an environment that's comfortable, caring and caters to your every need. The real world, however, is tough, and some patients, after their stint in a luxury rehab, may not be able to cope with the daily grind of life.
Can I afford a luxury rehab?
There is no denying the fact that luxury rehab can be quite expensive. It is natural for you or your family members to worry if they can afford this service. Before you decide, consider these points.
If you are already well-off and have money in savings, then going for a luxury rehab treatment shouldn't be a problem. After all, it's worth your money.
If you have an insurance policy that covers some of the cost of the treatment, then you can go ahead and consider a luxury rehab centre.
If the luxury rehab of your choosing offers you some kind of financial aid or some kind of flexible payment option, then you should be able to afford treatment at a luxury rehab.
While luxury rehabs offer all the comfort, please do remember that the patient has to be equally willing to be rehabilitated. Most rehab centres, whether basic or luxury, offer detoxification programs, counselling sessions, behavioural therapies, etc. If a luxury rehab is out of your means, then confidently go ahead with a basic traditional rehab, as you will still be assured of the care you need. In the end, if you have caring psychotherapists and doctors who are invested in your recovery, then you will be able to walk on the path of recovery, whether it's paved with luxury or not.
Sources
31 Top Luxury Rehab Centres in India. Rehabs.in
https://rehabs.in/services/luxury/
Gill. K. (2021, June) Luxury Rehab: The Benefits of Comfort in the Recovery Journey
https://luxuryrehabs.com/blog/luxury-rehab-comfortable-recovery-journey/