How can I afford addiction treatment?
Reviewed by: Rajnandini Rathod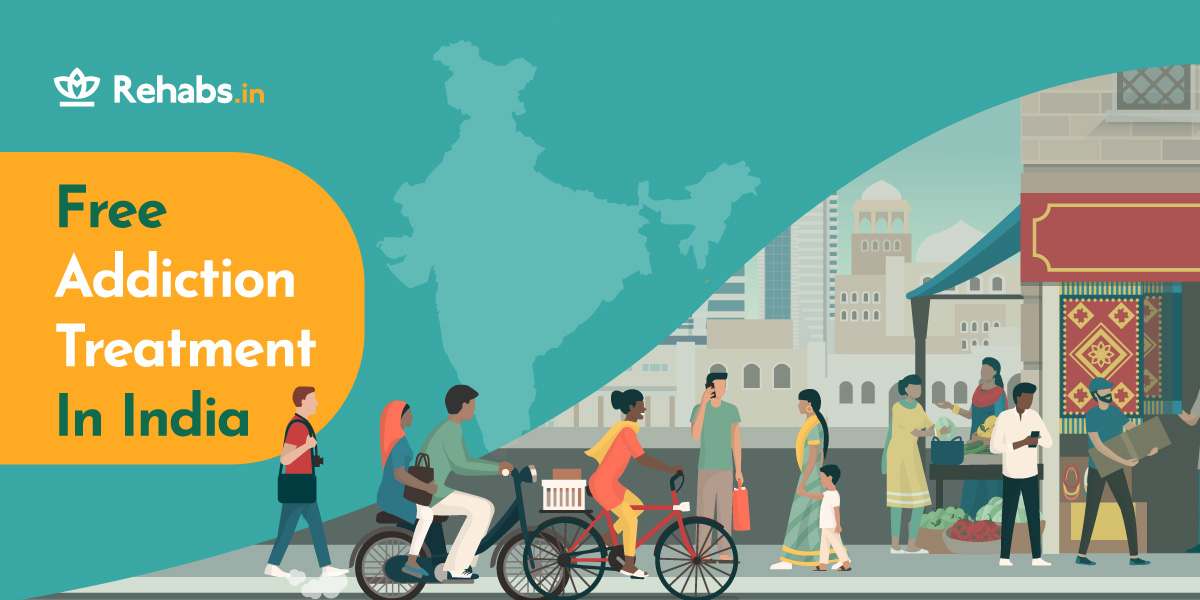 Malti had been taking extra cleaning jobs for over 3 months so she could save enough money to put her son who was suffering from addiction in a rehabilitation center. Her latest place of work was at a psychologist's house and there she learned from her employer that India has a number of free addiction treatment centers. Needless to say, she immediately put her son in a free rehabilitation center and planned to use the extra money for her son's further education post recovery.
Malti is not the only one who was unaware of this knowledge. Many are not able to access this free service simply because they are not aware of it. In fact, the National Mental Health Survey (NMHS), reported a high 'treatment gap' (people who need treatment but didn't receive one) for substance use disorders in India. The treatment gap for alcohol use disorders was 86% and for other drug use disorders was 73%. The survey also highlighted that only one in 37 people affected by alcohol use disorder and one in 20 people affected by drug use disorders ever received any rehabilitation treatment.
Types of de-addiction treatments
There are various types of de-addiction programs in India and are available free of cost or at a reduced price. Some rehab centers also adjust their fees based on the economic circumstances of the person seeking rehab.
In-patient programs – Under this program patients are admitted at the rehabilitation center for an extended period of time. While a few admit themselves voluntarily the majority are admitted to these centers involuntarily by their parents or loved ones. The person undergoes a detoxification program under medical supervision and this step may take a few days or a few weeks depending on the length and the intensity of the addiction. Post detoxification, the patient undergoes a combination of treatment that may include some or all of the therapies like Cognitive Behavior Therapy, Motivational Enhancement Therapy, 12 steps program, personal counselling, group therapy, etc. Due to the stigma attached to addiction, in-patient programs aren't very popular.
Outpatient programs – Ideally outpatient programs are suited for those who have already completed their rehabilitation through in-patient programs and are now just looking at managing their sobriety. However, outpatient programs can also be helpful to high-functioning addicts who are active in the workforce and need assistance in quitting their addiction. Some of the treatments offered could include one on one counselling sessions, group therapy sessions, workshops and training programs. Many government-run hospitals also have OPDS (Out-patient Departments) where one can access free counselling and therapy.
Alcoholics Anonymous (AA)/ Narcotic Anonymous (NA) – AA and NA are nonprofessional organizations and they don't have any clinics, doctors, counsellors or psychologists on board. There is no joining fee and the members consist of recovering or former alcohol or drug addicts. Treatment works through a sponsorship program (mentor-mentee). Even though there is no defined recovery method, most groups follow the Twelve Steps program laid out by the founding members.
Why is addiction treatment essential?
Many people with addiction problems often feel they have control over their addiction problems and hence don't seek treatment. Besides the misinformation of rehabilitation being expensive, many people don't want to be seen going to a rehabilitation center for the fear of being ostracized.
People with addiction issues can become withdrawn from the family and society. They can become aggressive, irritable, have suicidal thoughts and become depressed. In some cases, they may also resort to lying, stealing and physical abuse to sustain their addictions.
Delaying treatment can cause the addiction as well as all the problems associated with it to further spiral out of control and this can lead to a lot of physical, emotional, financial and social problems.
In fact, it won't be untrue to say that not getting help for addiction can prove to be more costly than addiction treatment itself. Paying a nominal fee for addiction treatment is definitely less than paying with your life.
Free de-addiction centers in India
The Government of India has mandated two of its major ministries, the Ministry of Health and Family Welfare (MoHFW) and the Ministry of Social Justice and Empowerment (MoSJE) to provide treatment services for addiction issues.
The Ministry of Health & Family Welfare operates a Drug De-Addiction Programme (DDAP) by offering financial grants for expanding post abuse treatment facilities in selected Central Government Hospitals/ Institutions and Government Hospitals/ Institutions. DDAP came into force in 1988 with the aim to offer affordable, accessible and evidence-based treatment for all substance use disorders through the government health care facilities.
The Drug Treatment Clinics (DTC) scheme is another policy for expanding the facility of outpatient treatment services while Integrated Rehabilitation Centers for Addicts (IRCAs) take care of inpatient treatments. Both the schemes are financed by The Ministry of Social Justice and Empowerment. At present, there are 27 DTCs and 480 IRCAs that are functional in different states in the country. Coordinated across India by the NDDTC, AIIMS, these centres are majorly operated by NGOs.
Following is the updated list of Drug Treatment Clinics (DTCs) under NDDTC, AIIMS, New Delhi under the "DTC Scheme – DDAP, MoHFW:
| | | | |
| --- | --- | --- | --- |
| S No | Name of Health Facility | District | State |
| 1 | Civil Hospital | Bhatinda | Punjab |
| 2 | Civil Hospital | Kapurthala | Punjab |
| 3 | Community Clinic DTC | New Delhi | New Delhi |
| 4 | Government Medical College | Kota | Rajasthan |
| 5 | Post-Graduate Institute of Medical Sciences | Rohtak | Haryana |
| 6 | King George Medical College | Lucknow | Uttar Pradesh |
| 7 | Regional Institute of Medical Sciences | Imphal | Manipur |
| 8 | District Hospital | Thoubal | Manipur |
| 9 | District Hospital | Bishnupur | Manipur |
| 10 | District Hospital | Churachandpur | Manipur |
| 11 | King Edward Memorial Hospital | Mumbai | Maharashtra |
| 12 | Civil Hospital | Osmanabad | Maharashtra |
| 13 | Peripheral Hospital | Mumbai | Maharashtra |
| 14 | Municipal De-Addiction Center | Mumbai | Maharashtra |
| 15 | New Civil Hospital | Surat | Gujarat |
| 16 | North District Hospital | Mapusa | Goa |
| 17 | Naga Hospital | Kohima | Nagaland |
| 18 | Institute of Mental Health | Chennai | Tamil Nadu |
| 19 | Medical College | Dibrugarh | Assam |
| 20 | Medical College | Dhule | Maharashtra |
| 21 | Community Health Center | Soibugh Srinagar | J&K |
| 22 | GT Hospital | Mumbai | Maharashtra |
| 23 | District Hospital | Singtam | Sikkim |
| 24 | Medical College | Agartala | Tripura |
| 25 | Medical College | Nagpur | Maharashtra |
| 26 | Mental Hospital | Indore | Madhya Pradesh |
| 27 | Institute of Mental Health | Hyderabad | Telangana |
The above centers offer detoxification/de-addiction recovery services, motivational counseling as well as post care and reintegration into the society.
In closing, addiction of any kind, especially drugs and alcohol can have a negative impact on one's life. There are many government-run facilities that offer de-addiction treatment free of cost or at a nominal rate. So, if you know someone who is battling addiction issues and is under the misconception that treatment is expensive, then inform them about the free treatments they can avail or better still, guide them to the nearest DTC.
To find more free treatment options explore our curated list of free rehab centres in India here.
Sources:
Ambekar, A., Chadda, R., Khandelwal, S., Rao, R., Mishra, A., Agrawal, A. (2019, February) Magnitude of Substance Abuse in India. National Drug Dependence Treatment Centre (NDDTC), All India Institute of Medical Sciences (AIIMS), New Delhi
https://www.ndusindia.in/downloads/Magnitude_India_FINAL_REPORT.pdf
(2020, June 3) Types of Treatment Programs. National Institute on Drug Abuse.
https://nida.nih.gov/publications/principles-drug-addiction-treatment-research-based-guide-third-edition/drug-addiction-treatment-in-united-states/types-treatment-programs
Legg, T., Tyler, M., (2018, January) Recognizing an Addiction Problem. www.healthline.com
https://www.healthline.com/health/addiction/recognizing-addiction#TOC_TITLE_HDR_1
Drug De-Addiction Programme (DDAP). Ministry of Health & Family Welfare
https://main.mohfw.gov.in/sites/default/files/drugs%20deaddiction%20programme.pdf
Department of Social Justice and Empowerment. NashaMukt Bharat: Annual Action Plan (2020-21)for 272 most affected Districts
https://grants-msje.gov.in/display-drugs-action-plan