How to get help for drug addiction without my family knowing?
Reviewed by: Rajnandini Rathod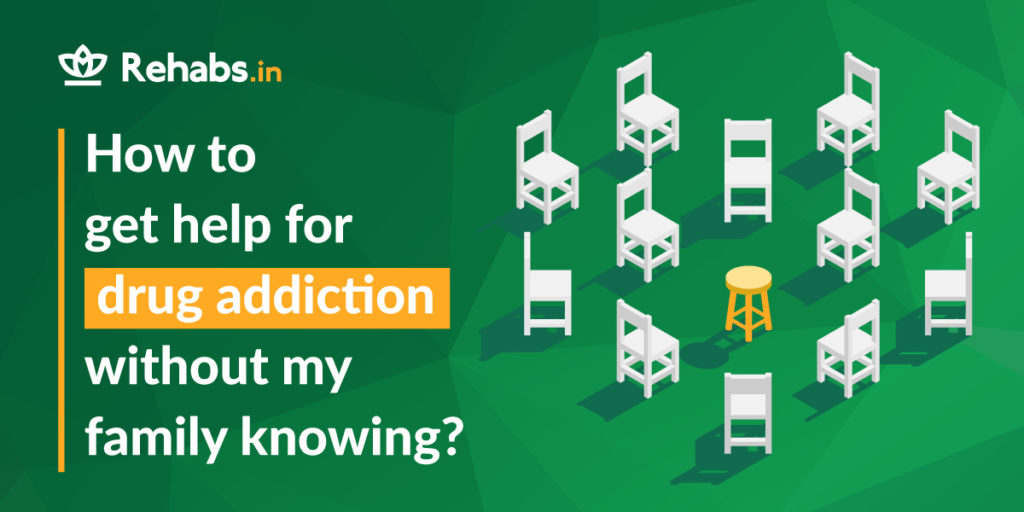 Battling addiction is a tough ordeal! While it is great to have the support of your friends and family, for some, that may not be an option. There is still not much education about drug addiction and how it is a disease that needs medical attention and care. Most people, especially the older generation, still view drug addiction as a criminal act and a moral failing. Parents would rather ignore all the tell-tale signs than admit their child is battling addiction.
A person with addiction problems may fear that their parents may throw them out of the house, making them homeless. Being disowned is also a real fear for most young people. In a few cases, some fear that their parents may marry them off without their consent in the hope that having a family may somehow cure them of their addiction. Whatever the reason, one still needs to get help for drug addiction, and if you cannot confide in your family, then this is how you can go about it. However, please note that the following advice is only for legal adults aged 21 and above. If you are a teenager, then you have to confide in your family, and we will guide you on how you can gently break this news to your family.
Discreet ways to get help for your drug addiction if you are 21 and above
Visit a psychotherapist: Most addiction issues arise due to some traumas or mental issues. While it is not necessary that you may have these mental issues, your psychotherapist will guide you to a rehab centre that will meet your current addiction treatment needs. This can be the first step toward getting treated for your drug addiction problem.
Confide in your friend/partner: If you have a best friend or a partner, then tell them that you are battling addiction issues. Chances are that they already know about it and will be willing to help you overcome it in any way they can. They can help you with visits to the rehab centre, and if you are currently tied for money, they may provide financial aid.
Seek out patient treatment: The government of India offers free de-addiction treatment. There are currently around 30 Drug Treatment Clinics (DTC) in India that offer outpatient treatment services. In outpatient treatment, you don't have to admit yourself to a rehab centre. You can schedule visits either daily or biweekly, depending on the severity of your addiction problems.
Plan a month-long vacation/ work trip: If the severity of your addiction requires in-patient treatment, then you can always tell your parents that you are going for a month-long vacation. If you are an employed person, you can also tell them you are going on a work trip. It would be wise to inform your superior beforehand about your situation, and if you are genuine about seeking help, then they will go along with the ruse. You may also choose from the many well-established and reputed private rehab centres if you have enough savings for your treatment. Or you can browse through our curated list of free rehab centres in India here.
If you have parents who are understanding, caring and loving, then we strongly suggest you inform them about your drug addiction battle and how you need their help and support in seeking treatment. Your counsellor or your mental health professional in your rehab centre can do this on your behalf. In fact, they might be able to better explain the nature of your addiction and the circumstances that led to your addiction. The detoxification process can be tough, and you will need your family to see you through it. You would need someone to take you through counselling and therapy sessions as there may be days when you won't be physically able to do it yourself. If you haven't saved any money, then you may also need financial assistance, which they will help you with in the best way they can. Above all, having your family by your side will make the recovery process easier, and you will have all the support you need to stay on the path of sobriety once you have been rehabbed.
How to get help for addiction if you are not an adult yet
If you are a teenager with a drug addiction problem, then it's advisable to inform your parents as doctors/authorities will require their consent for your treatment. If you are afraid of severe repercussions, then here are some ways how you can inform them without causing much emotional distress for them as well as you.
Approach your school/college counsellor/professor/principal: If you are afraid of facing your parents directly, then you may approach your school or college counsellor or a professor or a teacher. Ask them to help you break this news to your parents and that you wish to seek their help for your addiction treatment. Your teachers always have your best interest at heart, and they will not only inform your parents but will also tell them to understand your situation and that they should be kind to you and get the professional help you need.
Inform a trusted relative: It could be your older sibling, your favourite aunt or uncle, or even your grandparents. You need to understand that while they may be angry at first, they will consider your situation and will also acknowledge the strength it has taken you to admit you have a problem. They will approach your parents on your behalf, and together as a family, they will get you the best rehab treatment they can afford.
Get literature on drug addiction: Get some pamphlets and booklets that educate the reader about how drug addiction is a disease and how one can support their child to overcome this disease with loving support and care. You can then break the news about your own addiction battle and offer them this literature as a way of asking them for help. Your parents may be upset or even angry, but they will also see that you have reached out to them for help and that in itself will be a huge relief for them. They will seek your admission as a positive sign and will help you access the help you need.
In closing, it is understandable that you may not want to inform your family about your addiction issues. If you as a family are not close for whatever reason, then it may seem like it's an ok thing to do. However, if you have a family that is loving and caring, then don't keep them in the dark as they can be your best support system in your tough battle against addiction. If you are a teenager, then please do inform your parents as they are your legal guardians, and you cannot get treated without their knowledge. Moreover, they are your family, and they will help you get through this tough time. In fact, you and your entire family may become stronger and closer after this experience.
Sources
Department of Social Justice and Empowerment. NashaMukt Bharat: Annual Action Plan (2020-21) for 272 most affected Districts
https://grants-msje.gov.in/display-drugs-action-plan