What is Smack/Brown Sugar Drug?
Brown sugar
(an adulterated form of
heroin
), also called
smack
, junk, skag, dope, and chaw, is a semi-synthetic
opioid
derived from the morphine
extracted from poppy plants
. Pure heroin accounts for only 20% of the brown sugar drug; the remaining 80% comes in the form of chalk powder, zinc oxide, and even strychnine.
These impurities
make brown sugar much cheaper than the typical, more purified form of heroin; they create a
substance more dangerous than heroin
, as the user is unsure exactly how much heroin he is consuming.
Brown Sugar: Methods of Use
Most brown sugar users prefer to smoke the drug. Its properties are well-suited to smoking as it burns at a lower temperature. Practically, smoking is a very efficient way of taking the drug.
Some will heat the powder on tin-foil and
inhale
the fumes; others will
inject
themselves with brown sugar; this is difficult as the impure substance
doesn't dissolve well in liquid
.
How is Brown Sugar Made?
Brown sugar is usually made available in powder form and is kept in small vials. The substance is only about 20% heroin. Brown sugar drug making process involves mixing heroin with other substances like chalk powder, zinc oxide and even strychnine.
Because of these impurities in the drug, brown sugar is usually cheaper, but more dangerous.
In order to dissolve the substance with the purpose of injection, you have to mix it with an acid. Typically, people will use one of four different acids to make their brown sugar (or some actually call it "brown heroin") soluble. Their choices are citric or ascorbic acid (these tend to work), or lemon juice and vinegar (which should never be used).
The injection of a drug is one of the most dangerous forms of transmitting a drug into your body. You place yourself at risk for HIV infection and other blood transmitted diseases. Also, constantly plunging needles into your veins is bad for your skin and insides.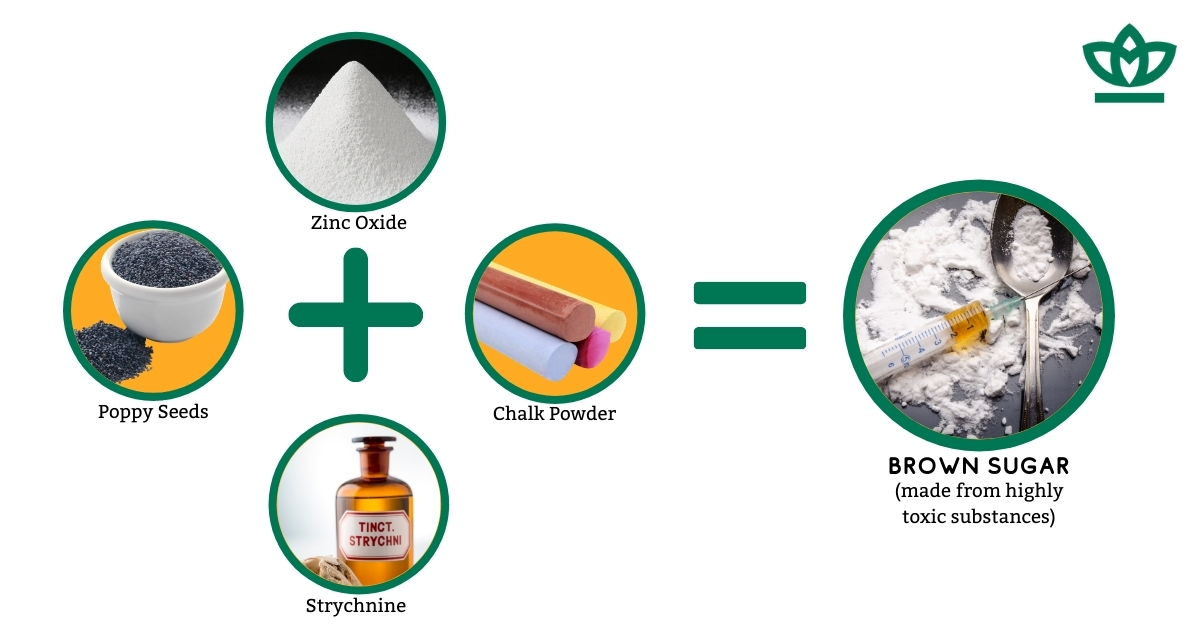 Brown Sugar Threats
Brown sugar threats are analogous to many of the dangers presented by heroin. Often brown sugar abusers will develop a dependency on the drug, and as a result, they begin having extreme withdrawal symptoms only a few hours after use.
Specifically, some of the threats surrounding brown sugar abuse are:
Weight loss
Loss of appetite
Insomnia
Irritability
Lack of concentration
Depression and frustration
Withdrawal Symptoms
As you can see, brown sugar takes a toll on the body. And with anything that affects you in this way, it will have a number of negative effects on the body.
And as it takes its toll, and you attempt to stop using, the withdrawal will hurt. Withdrawal symptoms include:
Violent and aggressive behaviour
Lack of sleep
Abnormal behaviour
Vomiting
Watering of nose
Uses in India
India abuses heroin
(the derivative of brown sugar) more than any other country in Southern Asia. According to a
UN report
, "One million heroin addicts are registered in India, and unofficially there are as many as five million." Brown sugar accounts for much of this heroin use.
Brown sugar has become one of India's most popular drugs. Addiction to the substance has challenged our society for decades now, and its effects are eroding the potential for the youngsters of our generation.
Sources
http://nicfs.gov.in/wp-content/uploads/2017/01/Narcotics-Drugs-and-Psychotrophic-Substances.pdf
https://kochicity.keralapolice.gov.in/wings/specialized-wings/narcotic-cell
https://www.unodc.org/pdf/india/publications/DAIIM_Manual_TTK/3-17.pdf
https://store.samhsa.gov/sites/default/files/d7/priv/pep18-02.pdf