Top 10 Government Mental Health Institutions in India
Reviewed by: Rajnandini Rathod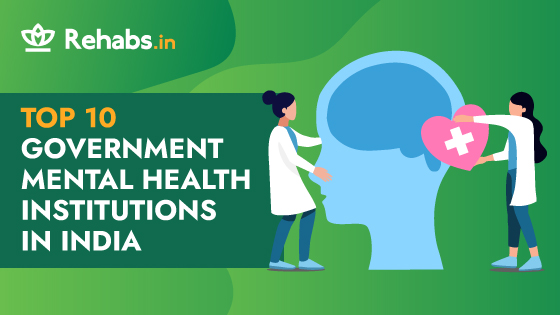 In the intricate tapestry of a nation's well-being, the importance of mental health is often a thread overlooked. However, as awareness grows and societal attitudes evolve, so does the recognition of the significance of mental well-being. In India, where a diverse population grapples with the challenges of modern life, government mental health institutions play a pivotal role in providing support, treatment, and advocacy.
This blog aims to shed light on the Top 10 Government Mental Health Institutions in India, recognizing their commendable efforts in addressing the mental health needs of the nation. From the bustling metropolises to the rural landscapes, these institutions serve as beacons of hope and healing for those navigating the complex terrain of mental health.
1. National Institute of Mental Health and Neurosciences (NIMHANS), Bangalore
The National Institute of Mental Health and Neurosciences (NIMHANS) stands as a beacon of excellence in the realm of mental health and neuroscience in India. Nestled in the vibrant city of Bangalore, NIMHANS has earned a reputation as a premier institution, pioneering cutting-edge research, education, and patient care since its inception in 1974. Renowned for its multidisciplinary approach, NIMHANS seamlessly integrates clinical expertise with groundbreaking research in the fields of psychiatry, psychology, neurology, and neuroscience.
The institute's commitment to holistic mental health care is exemplified through its range of specialized clinics, comprehensive treatment programs, and a dedicated team of professionals who work tirelessly to address the diverse needs of individuals grappling with mental health challenges. NIMHANS not only serves as a catalyst for innovation but also plays a crucial role in shaping mental health policies and initiatives at the national level, contributing significantly to the ongoing transformation of mental healthcare in India.
2. All India Institute of Medical Sciences (AIIMS), Delhi
The All India Institute of Medical Sciences (AIIMS) stands as a symbol of medical excellence and healthcare leadership in India. Renowned for its commitment to education, research, and patient care, AIIMS has produced some of the finest medical professionals and has been at the forefront of medical breakthroughs. Boasting state-of-the-art facilities and a diverse range of medical specialties, AIIMS plays a pivotal role not only in training the next generation of healthcare professionals but also in delivering high-quality medical services to a vast and varied patient population.
The institution places a strong emphasis on training mental health professionals, fostering research in psychiatric disorders, and integrating mental health into the broader healthcare landscape. By dedicating resources to mental health education, treatment, and advocacy, AIIMS is not only providing crucial support for individuals facing mental health issues but also playing a pivotal role in reducing the stigma associated with mental health in the larger societal context.
3. Central Institute of Psychiatry (CIP), Ranchi
The Central Institute of Psychiatry (CIP) in Ranchi stands as a distinguished institution dedicated to the advancement of mental health in India. With a commitment to integrating traditional and contemporary approaches to mental healthcare, CIP has earned its reputation as a leading authority in psychiatric services. The institute's multidisciplinary approach, coupled with its emphasis on community outreach, underscores its dedication to holistic mental well-being.
4. Institute of Human Behavior and Allied Sciences (IHBAS), Delhi
Located in the heart of Delhi, the institute serves as a comprehensive hub for psychiatric services, offering a wide array of specialized treatment modalities for various mental health disorders. IHBAS places a strong emphasis on research and training, contributing significantly to the knowledge base in psychiatry and allied sciences. The institute's commitment to community outreach and mental health awareness programs reflects its dedication to reducing the stigma surrounding mental health issues in society.
5. Lokopriya Gopinath Bordoloi Regional Institute of Mental Health (LGBRIMH), Tezpur
The institute focuses on research and education, contributing to the understanding and management of mental health issues prevalent in the region. LGBRIMH is committed to fostering mental well-being through a blend of traditional and modern approaches, catering to the cultural nuances of the northeastern communities. As a regional leader in mental health, the institute continues to uphold the legacy of Lokopriya Gopinath Bordoloi by providing compassionate and effective mental health care services to the people of Assam and the neighboring states.
6. Mental Health Institute (MHI), S.C.B. Medical College, Cuttack
The Mental Health Institute (MHI) affiliated with S.C.B. Medical College in Cuttack, Odisha, stands as a critical center for mental health services, education, and research in the region. Established as an integral part of S.C.B. Medical College, MHI has been instrumental in addressing the mental health needs of the local population since its inception. With a focus on providing comprehensive psychiatric care, the institute offers a spectrum of services ranging from diagnosis and treatment to rehabilitation and community mental health initiatives.
7. Rajasthan University of Health Sciences (RUHS), Jaipur
Established in 2005, RUHS plays a pivotal role in providing quality education, training, and research opportunities in various health sciences disciplines. The university is committed to fostering excellence in medical education, pharmacy, nursing, dental, and paramedical fields. With a focus on innovation and contemporary healthcare practices, RUHS prepares a new generation of healthcare professionals equipped with the knowledge and skills needed to address the evolving challenges in the field.
8. Post Graduate Institute of Medical Education and Research (PGIMER)
The institute is renowned for its rigorous postgraduate training programs, producing a cadre of skilled and compassionate healthcare professionals who contribute significantly to the national and international healthcare landscape. PGIMER's commitment to research is evident through its numerous contributions to medical literature and breakthroughs in various specialties. The institute is equipped with state-of-the-art facilities, fostering an environment conducive to medical innovation and academic excellence.
9. Institute of Mental Health and Hospital (IMHH), Agra
IMHH is committed not only to clinical excellence but also to community outreach, awareness, and destigmatization of mental health issues. Through its educational initiatives and research endeavors, the institute contributes to the broader understanding and advancement of mental health care practices. In the historic city of Agra, IMHH plays a crucial role in fostering mental well-being and continues to be a source of support for individuals and families navigating the complexities of mental health.
10. Nagpada Police Hospital, Mumbai
As an integral part of the law enforcement support system, Nagpada Police Hospital stands as a testament to the commitment to the health and welfare of those who uphold public safety in the vibrant metropolis of Mumbai. Situated in the bustling city of Mumbai, plays a crucial role in providing healthcare services to the members of the police force and their families. Established to cater specifically to the unique medical needs of law enforcement personnel, the hospital serves as a cornerstone in ensuring the physical and mental well-being of those who serve and protect.
Read more about the best apps for mental health here.