Top 5 apps for mental health
Reviewed by: Rajnandini Rathod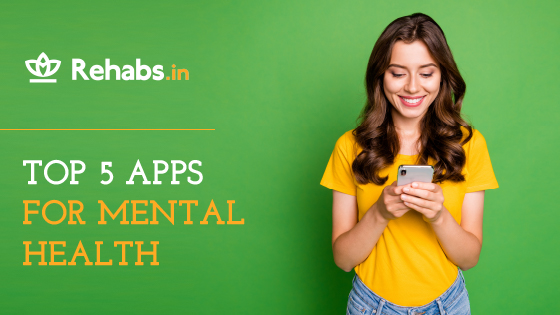 It would not be entirely wrong to say that smartphones have permeated most aspects of our lives. We shop online, we find our entertainment online, and we also do quite a bit of learning online, primarily through Apps. These Apps are a great tool to access knowledge and be a part of a community when it's not physically possible. While most people have one or two fitness or diet apps on their phones, the same cannot be said about mental health apps. People chase physical fitness and the latest diet, forgetting the importance of mental health for one's overall well-being.
What are Mental health Apps, and is it useful?
Mental health apps are a great way to keep your mental health in check. These apps have tools, activities, articles, podcasts, etc., that help you understand your emotional state better. Some of these Apps also help you access counsellors and therapists at a fraction of the cost. Mental health Apps are great for people who are short on time, who want to be discreet about getting help, and people who have stressful jobs or anxiety issues. One can use these apps even when there are no mental health issues as these apps teach you how to meditate, practice mindfulness, and practice gratitude, all of which go a long way in keeping you mentally fit.
It is important to note that mental health Apps aren't designed to diagnose a condition, nor can they be a substitute for mental health professionals. These apps teach you how to improve mental health by helping you find ways to uplift your mood and improve your sleep patterns through mindfulness meditation and more. These mental health apps, however, cannot help with more serious mental health issues like depression, bipolar disorders, PTSD, addiction, etc. One needs to visit a professional licensed therapist or admit themselves to mental health wellness centres for proper diagnosis, care, and recovery. Now that it is clear let's look at the top 5 mental health Apps that can help you live better, sleep better, lift your mood, and improve your overall attitude towards life.
Top 5 Apps that help improve your mental health
Best mental health app overall: Moodfit
Moodfit is a free mental health app that is available on GooglePlay and the Apple App store. It is designed to help you better understand your mood, what affects it, how to improve it as well as track it. There are also questionnaires that will help you find out if you are experiencing any symptoms of depression, anxiety, etc. They also have articles and audio files to help you understand mental health problems. The App also helps you practice gratitude and mindfulness.
Pros
· It is free of cost
· It is adaptable to your goals
· You can track your daily progress
· Prompts insights and actionable exercises
Cons
· No access to professional help
· Possible wrongful self-diagnosis
· Advanced features come at additional costs
· Tracking features can be time-consuming
Best mental health app for Therapy: BetterHelp
Available on GooglePlay and the Apple App store, BetterHelp's therapists provide online therapy and counselling services through messaging, audio, and video chat. It is not a free service, and the cost varies based on location and the availability of the therapist. The therapists at BetterHelp are fully trained and accredited, and one can access their bios easily on the BetterHelp website before choosing to work with them. They have many therapists onboard, and hence one can find a therapist of their liking to help them through a host of mental health issues or life problems like depression, stress, relationship issues, body issues, anxiety, etc. They offer weekly live audio and video sessions along with unlimited messaging with your therapist.
Pros
· Remote counselling via audio, video, and messaging
· No cap on the number of messages you can send your therapist
· High user satisfaction
Cons
· Session lengths are not fixed and can vary by therapist
· Only one subscription plan is available
· No free trials or consultations
Best mental app for lifting your spirit: Happify
Happify is available on both Google Play and the Apple App store. The free version lets you access some of the content on the App however, for full access, you will need to buy one of their purchase plans. The App includes science-backed games and activities that help you decrease stress and anxiety, develop resilience, and overcome negative thoughts. These activities and games were created by positive psychology experts familiar with evidence-based cognitive behavioural therapy interventions. These games take only a couple of minutes to complete, although the satisfaction you derive from these games makes a big difference to your mood. While the main goal of the App is to make you happy, it lets you decide what areas of your life you would like to work on, for e.g., working towards a successful career, or learning how to practice mindfulness through meditation.
Pros
· Impressive activity integration with different individualized goals
· Different tracks that highlight specific areas of life
· Helps you understand your emotions better
· Motivates you to live in the present
Cons
· More options are available only if you buy the premium option
· Costlier than many other mental health apps
· Some of the challenges/deadlines in the games can be stress-inducing
Best mental app for Meditation: Headspace
Headspace is a meditation app and is available on Google Play and the Apple App store. The App is designed to help you live mindfully through the practice of meditation. The app offers a varied range of meditations for beginners and advanced practitioners that range from 3 to 20 minutes. The app helps you learn the basics of mindfulness, how to cope with cravings, deal with distractions as well as to get better sleep. This is not a free app, although it is more affordable than other mental health apps.
Pros
· Positive reviews of high user satisfaction
· Affordable monthly fee
Cons
· Some of the exercises can get repetitive
· It is not ideal for advanced meditators
Best mental health app for sleep: Calm
Calm is a mindfulness app that is available both on Google Play and the Apple App store and is designed especially for beginners. The App offers a wide range of audio programs offering guided meditations, breathing techniques and mindful and calming exercises. Calm also offers a wide variety of story recordings in various categories, including travel, nature, and nonfiction. Some of the narrators of these stories feature Hollywood actors, famous authors, and other celebrities. The app also has a wide collection of relaxing ambient sounds of nature and music that help you achieve either a deep state of meditation or deep sleep.
Pros
· A great sleep music library
· Offers mood tracking
· Allows for more individual exercises
· Simple to follow
Cons
· It is expensive
· Complaints of auto-renewal and cancellation issues
· Poor customer service
In closing, these mental health apps can help you improve the quality of your life by taking care of your mental health. They are a great tool to help you sleep better, feel good about yourself, help you practice mindfulness and meditation and get a more positive outlook towards life. Along with many other apps that are there on your smartphone, it is time to make some space for one or two of these mental health apps.
Sources
Lockhart. A., Morin. A., (2022, June) Best mental health apps. Find peace of mind from your smartphone or tablet.
https://www.verywellmind.com/best-mental-health-apps-4692902
Johnson. J, Braun. A., Cronkleton. E., (2022, June) 13 of the Best Mental Health Apps to Use in 2022.
https://www.healthline.com/health/mental-health/mental-health-apps#ibreathe