Things you can do this mental health awareness month
Reviewed by: Rajnandini Rathod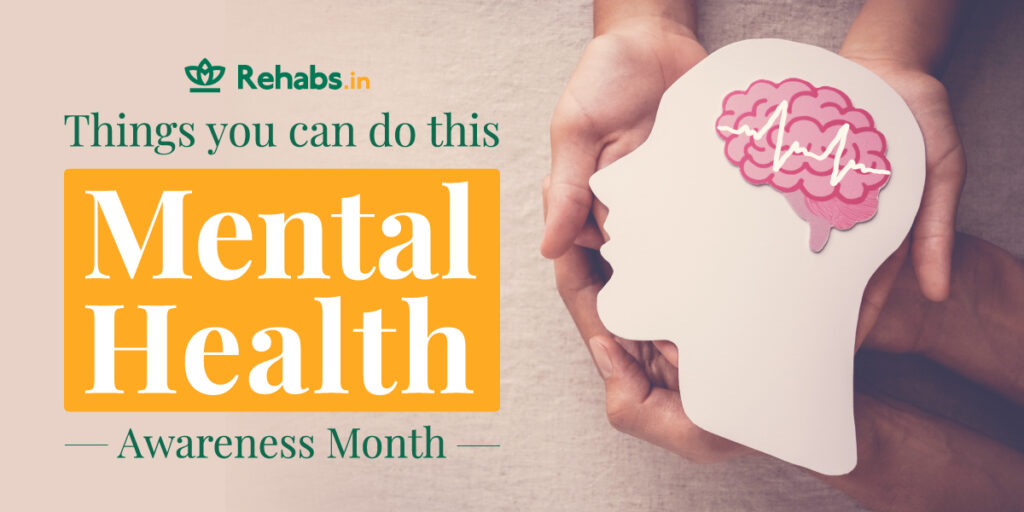 ---
"We should make it clear that getting help isn't a sign of weakness—it's a sign of strength."
– Michelle Obama
One in four people suffers from a mental illness in a given year. The prevalence of stigma in this area comes in the way of people seeking treatment. A study showed that about 47% of people express higher judgment towards people with a mental illness. It is essential to normalise talking about mental health and encourage seeking help.
May has been celebrated as mental health awareness month since 1949 to spread awareness about mental illnesses, their prevention and treatment. Different organisations, institutions and individuals come together with the vision of a world where anyone suffering from a mental illness can get adequate treatment and support without any stigma.
Mental illness can affect anyone irrespective of their age, caste, class or ethnicity. So, this concerns all of us. If you or someone you know might be suffering from mental health issues, you might want to show your support this mental health awareness month.
In this blog, we talk about a few ways in which you can celebrate and contribute to spreading awareness this month. Let's educate the public, start conversations around mental health and fight the stigma around mental illness.
Things you can do as an individual
Educate yourself. Mental health has become a part of our daily conversations. It is important that the information we have and share is accurate. So educate yourself on various mental disorders and learn about mental wellness. Read a book or attend a webinar on mental health. This can help you start up discussions within your social circle.
Prioritise your own mental health. An easy way to celebrate this month is to boost your own mental health. You can do some simple things that make you feel better. You could take some time off social media and do an activity that you enjoy. You could practice gratitude journaling or go for a nature walk. Pick any activity that would express your love and compassion for yourself.
Check on your own mental health to see how you are doing. Ask yourself questions like, am I getting proper sleep? Am I taking enough time for myself? Do you enjoy doing the activities you like? If you think that you need help, seek support as soon as you can. Waiting longer can only worsen the condition.
Show support to people around you. The simplest thing you can do is check on your friends and family. You can start the conversation by simply asking them how they are doing and letting them know that you care.
If someone you know is suffering from a mental illness, you can show your support by asking them how they feel. You can offer to help them in seeking treatment. Do not push their boundaries, you can ask them if they're comfortable talking to you about this. Remember that you don't have to fix their problems or give them advice. You are doing this to let them know that you are there for them.
Sharing information on social media. Sharing important resources and helpline numbers can be helpful to everyone. You can share facts and slogans about mental health, promoting the idea that it's okay to seek help and it is important to seek treatment early on. You can directly share images from the mental health awareness toolkit that a lot of organisations create.
If you've ever experienced a mental health disorder, you can use social media to share your own personal story with the world. This can give people hope that they can get better and encourage them to seek help.
Spreading information locally. There are many free toolkits and resources available online that can be used to spread awareness. Some mental health organisations also share special toolkits every year for mental health awareness month. One such institute is Mental health America. You can connect with your local gym, organic store or any other health and wellness related businesses and ask them to put up posters or fact sheets about mental health. You can also hand out flyers or pamphlets in schools or local institutes.
Volunteer with non-profit organisations. There are many organisations working to promote mental health awareness and improve access to mental health treatment. You can either volunteer to help them in their campaigns or donate money or other resources to them.
Get your workplace involved. You can talk to your employer about why mental health is important for your organisation. Request them to share information with the whole company, put up fliers in common areas or organise a talk, by a professional, on a relevant mental health topic like stress management.
Things organisations can do
Encourage conversations about mental health. Ask people to share their go-to self-care technique or tips on taking care of your mental health.
Focusing on wellbeing. You can set aside a day to focus on wellbeing. Where your employees can relax and do some calming activities. You can also set up a meditation booth and a mandala colouring station, do some breathing and yoga exercises and offer some healthy organic snacks.
Host an event. You can for some speakers to talk about mental health. You can team up with a mental health organisation and organise a workshop or an awareness drive.
Set up a gratitude board. Encourage people to note what they are grateful for at the end of each day. They can then leave these notes anonymously on the gratitude board. This can enhance their well-being and make them feel optimistic.
Create a blog. You can post a blog on your website on a mental health-themed topic. Create posts on your social media handles. You can also share a simple message on your mailing list with all your clients.
Wellness hampers: You can gift your employees with mental-health-related products. Like self-help books or subscriptions to mindfulness apps. You can team up with a mental health organisation and get them discounts on counselling.
Mental health is an essential part of our overall well-being. So many people suffering from a mental illness do not reach out for help due to stigma. Let's join hands and celebrate mental health awareness month by spreading awareness and uplifting the stigma.
Sources: 
https://www.hopkinsmedicine.org/health/wellness-and-prevention/mental-health-disorder-statistics
https://www.nami.org/Get-Involved/Awareness-Events/Mental-Health-Awareness-Month
https://www.weforum.org/agenda/2018/04/5-charts-that-reveal-how-india-sees-mental-health/