iCAAD Online 2020 and its Significance Amid COVID-19

iCAAD Events organised the world's biggest conference on mental health and addiction, iCAAD Online 2020 on 16th and 17th of July, 2020. This was the first time in its history that the event happened online. We at RehabPath were delighted to be one of the sponsors and exhibitors of the event.
Many conferences are happening all around the globe on mental health and addiction, but iCAAD sets things apart by bringing some of the best minds working in the field of mental health and addiction on a single platform.
What is iCAAD?
iCAAD stands for "International conference on addiction, trauma, recovery, and associated behavioural, mental, and emotional disorders". It is a renowned platform dedicated to expanding knowledge, exchanging ideas, advancing the well-being, and the prevention and treatment of behavioural, mental, and emotional health issues. iCAAD was founded by Samantha Quinlan, who currently serves as the organisation's Conference Director.
Through its communications network and ongoing series of global conferences, it facilitates open dialogue, learning, and skills acquisition to influence best practices worldwide in the expert treatment of increasingly common conditions affecting individuals in every country.
What Happened in iCAAD Online 2020?
As a result of the global conditions right now, resulting from Covid-19 pandemic, this year iCAAD decided to do its international conference online. Just like previous years, iCAAD welcomed hundreds of mental health professionals, including therapists, medical doctors, counsellors, coaches, social workers, nurses, and recovery specialists to the platform.
This year's event was all about the compassionate and empathetic methods and protocols outlined for both clients and clinicians facing trauma and adversity with a special focus on the ongoing pandemic. Although the world is under turmoil due to circumstances created by Covid-19, the spirits of people in the event were high.
The success of the event can be gauged by the fact that it attracted over 40 eminent expert speakers & authors in the field of mental health, addiction, trauma, and recovery. At one point, the event saw more than 350 participants, including authors, speakers, experts, exhibitors, and students. Since the conference was organised virtually, the organisers were able to reduce their cost and pass on the benefit to the audience by significantly reducing the amount charged as an entry fee. They also offered a special concession to the attendees who suffered financially due to Covid-19.
It was an enjoyable experience for us to talk to the experts, exhibit our work, and learn from some of the amazing people working in the addiction and mental health space. Although this was the first online iCAAD conference, the organisers left no stone unturned in making sure that exhibitors, speakers, audience, and visitors can operate and navigate smoothly.
iCAAD was successful in replicating the ambience of a physical conference by creating a smart online platform. Every person who registered for the conference received an invitation with a URL to access the event. After logging in for the event, we were greeted by a well-designed digital environment.
The Welcome Page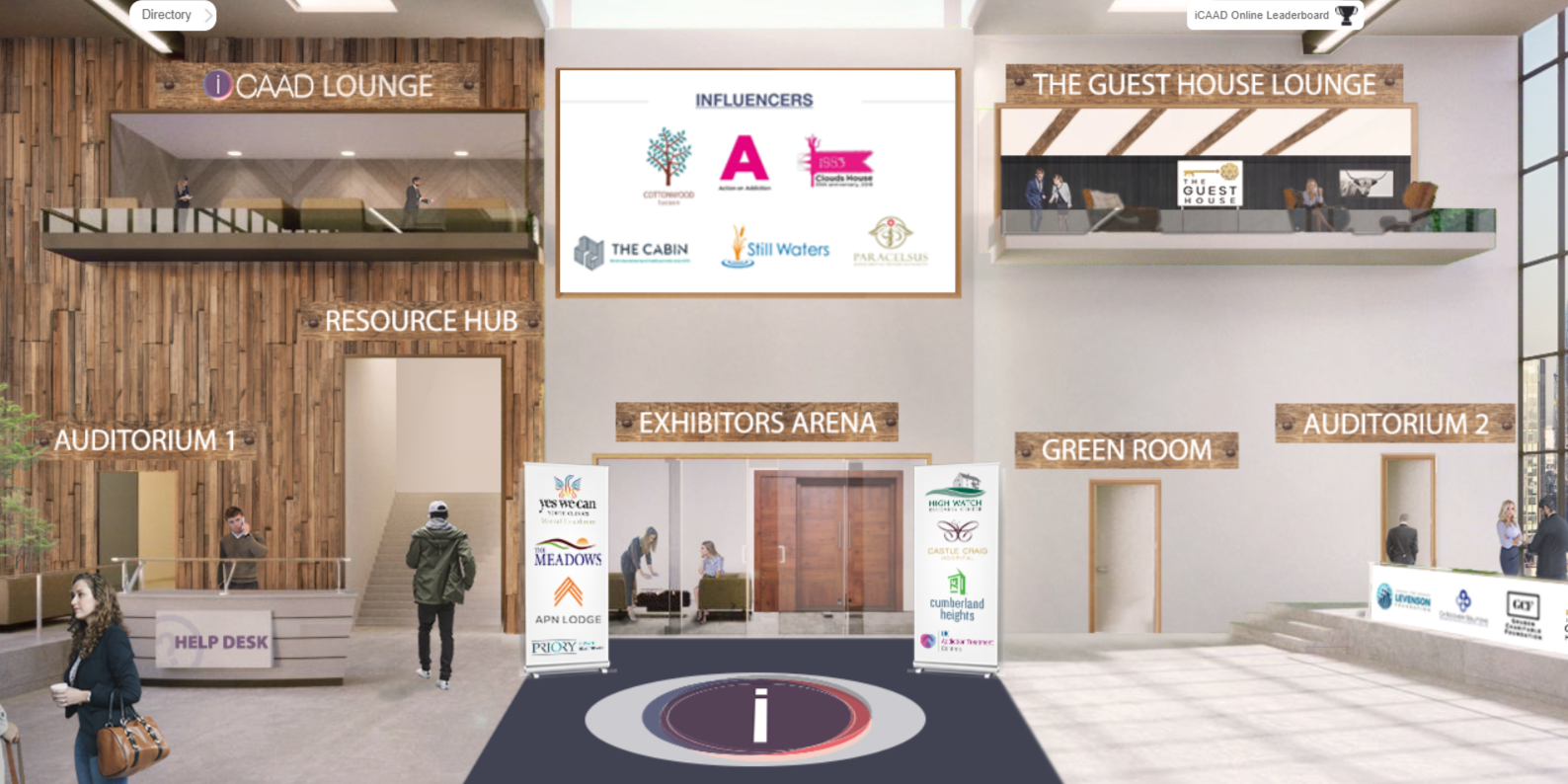 The first page had navigation links to all the important sections like:
iCAAD Lounge
The Guest House Lounge
Resource Hub
Exhibitors Arena
Green Room
Auditoriums
and Help Desk
The Exhibitors Arena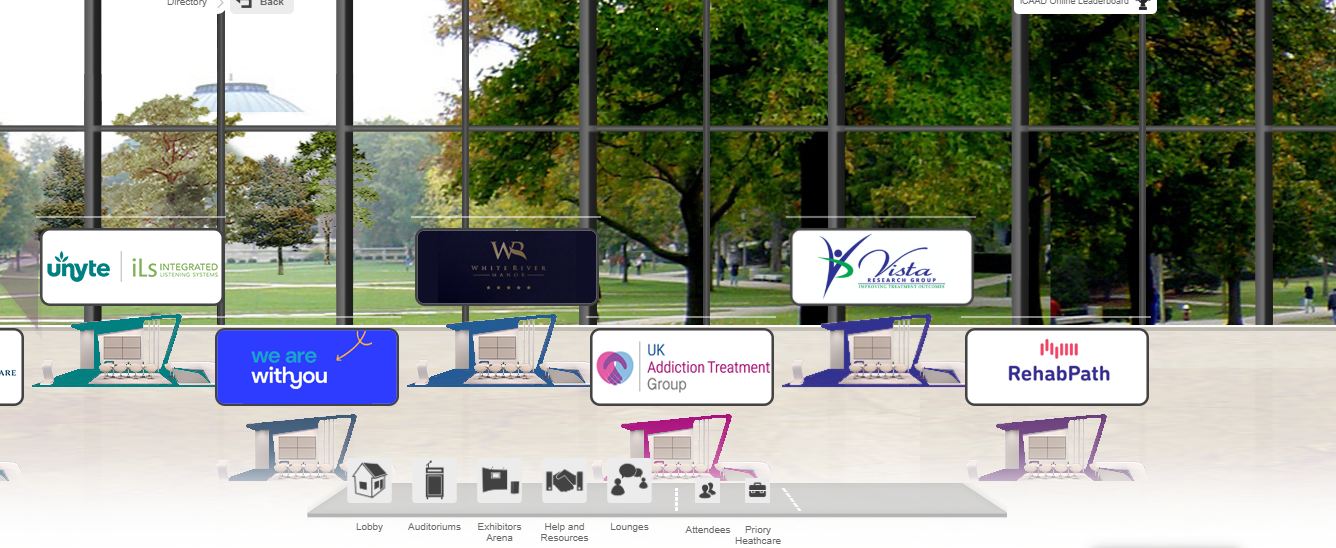 Every exhibitor was provided with a digital booth in the Exhibitors Arena to showcase their work and engage with the visitors. Like every other exhibitor, we also received our own digital booth. We had both our co-founders, Benjamin Camp (CEO, RehabPath Inc.) and Jeremiah Calvino along with Vikram Kumar (MD, Rehabpath, India) representing us at the event. It was exciting to be among like-minded people from the mental health and addiction community.
It was interesting to see other booths occupied by organisations showcasing their work and explaining how they are making a difference in people's lives and contributing to the welfare of the addiction and mental health community.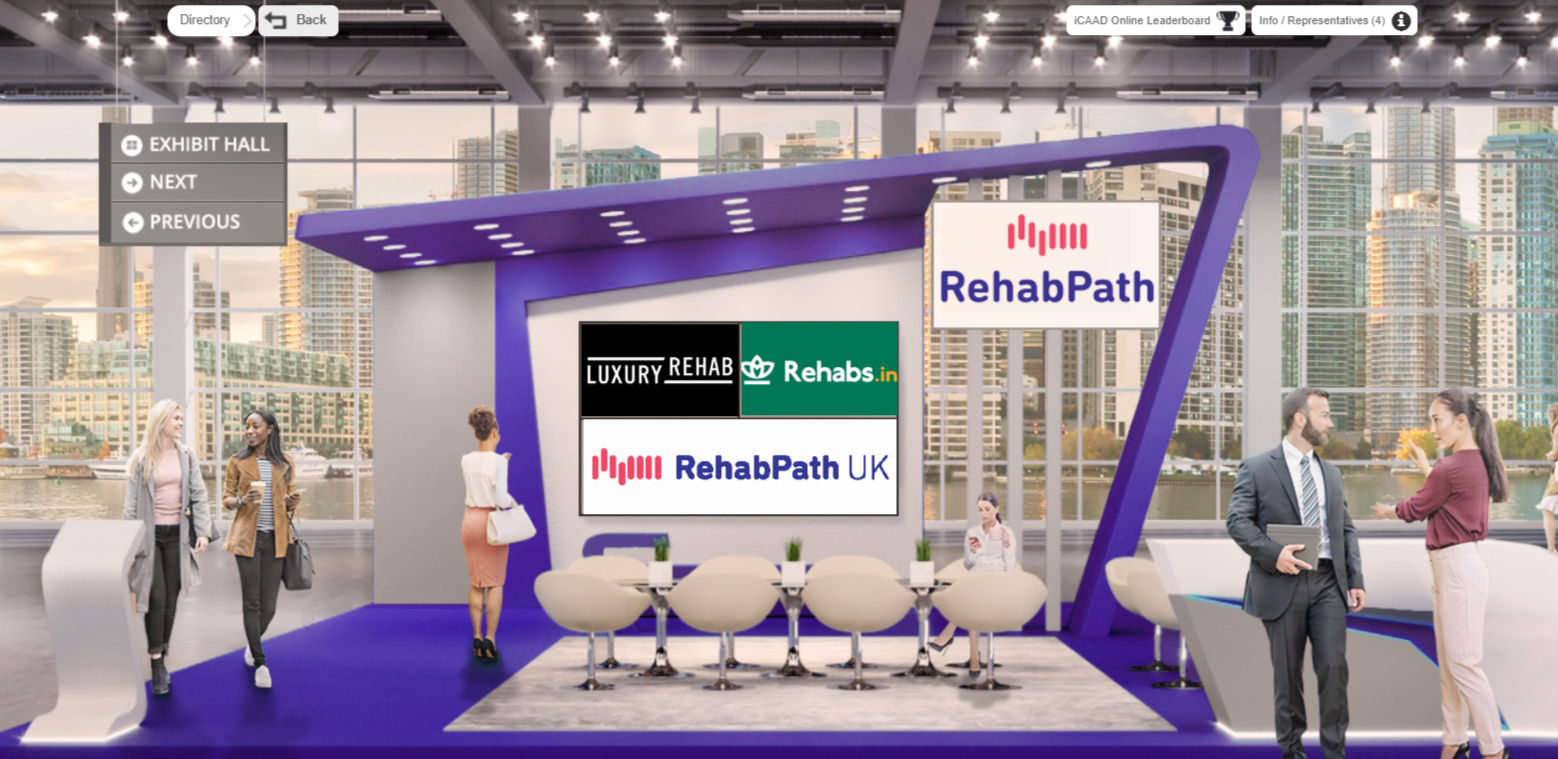 One of the exhibitors that got our attention was the High Watch Recovery Center. It was inspiring to find out how they are trying to offer relatively affordable services by optimising their costs. The centre has built gardens to grow vegetables and supply them to their kitchen. They harbour an ambitious plan to scale up their vegetable production to such a level that they are able to sell their homegrown products in the market for a profit. They want to use that profit to fund beds in their centre for financially weak people.
We found another exhibitor — Eagala doing something interesting and unique. They claim that incorporating horses into therapeutic sessions has the power to illuminate behaviours and emotions in a way that traditional talk therapy cannot. They believe that working with horses can help people gently heal from a variety of psychological issues. They say that by nature, horses do not judge or interpret. This allows people to work through their life challenges in a gentle and emotionally safe way.
iCAAD Lounge and the Guest House Lounge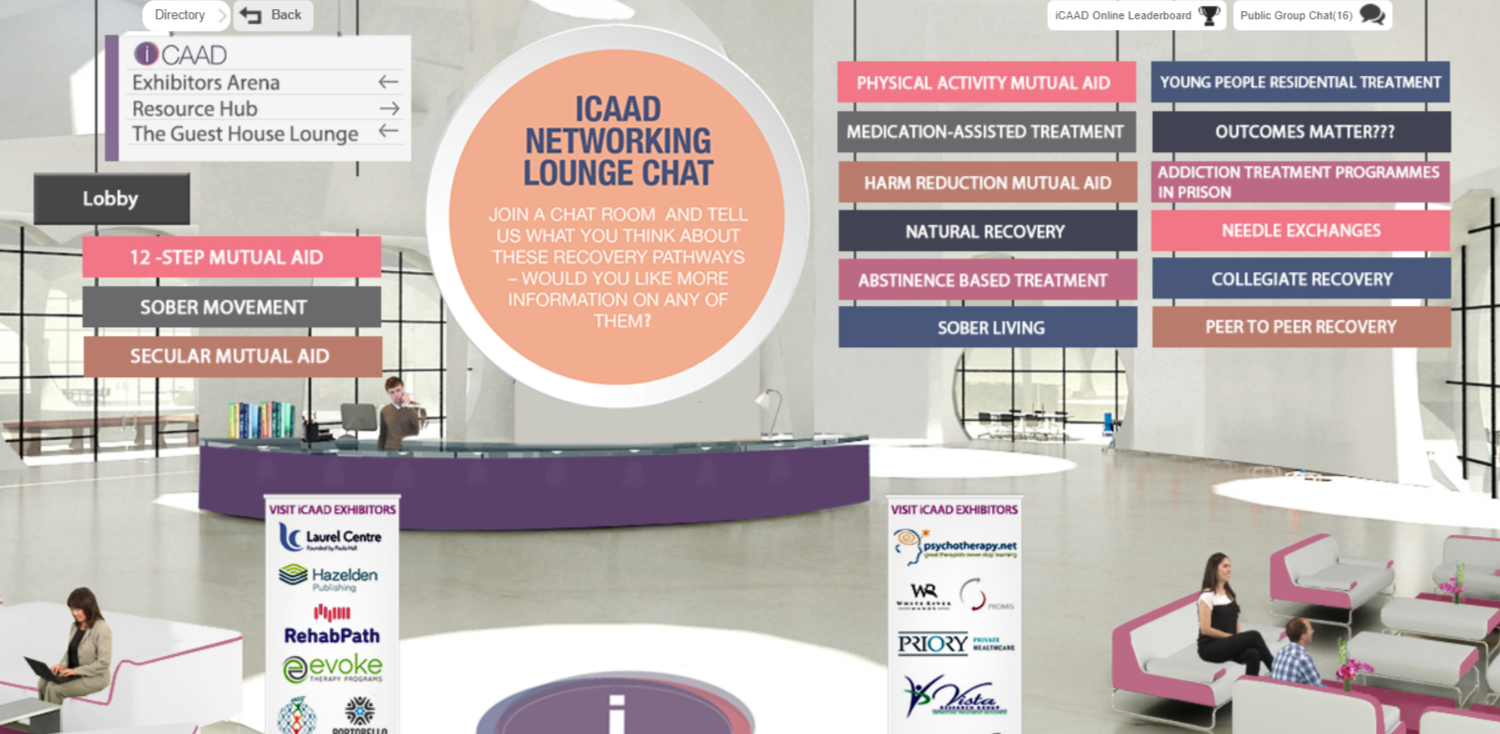 With the intention of facilitating networking and encouraging the sharing of ideas and thoughts, iCAAD had created 2 lounges with several chat rooms. While the "iCAAD Lounge" was dedicated to discussions on various recovery pathways like sober living, natural recovery, 12-step mutual aid and so on, the "Guest House Lounge" was a place for sharing personal experiences and knowledge on related subjects. We could find people indulging in deep conversations and networking with each other.
Auditoriums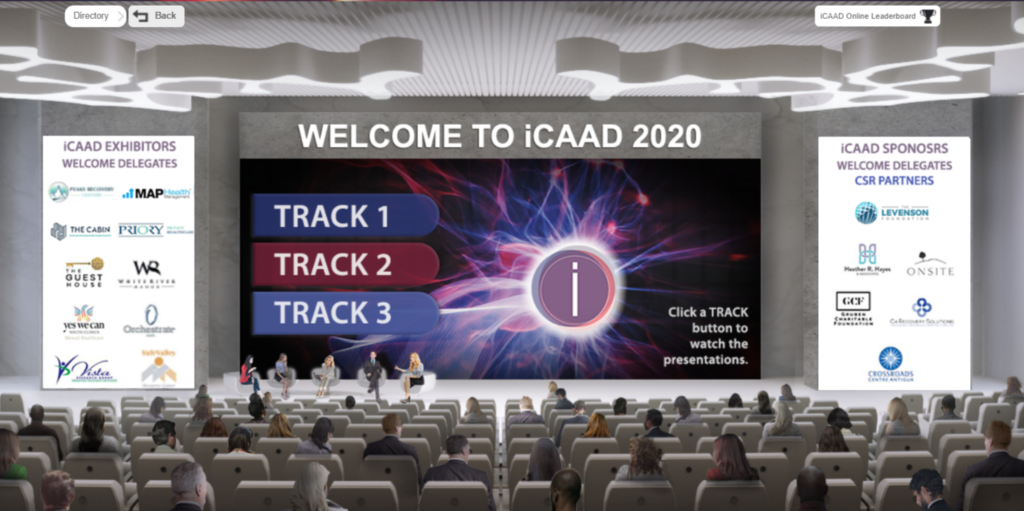 The 2 auditoriums were the places where the majority of the crowd was found on both the days of the event. They were the places where the real action was happening. Several eminent speakers took centre stage in the auditoriums and spoke on a variety of topics. However, the Covid-19 pandemic and lockdown were at the centre of every session.
It was exciting to have Russel Brand, the award-winning comedian, actor, author, public thought leader, and mental health and drug rehabilitation activist share his experiences, talk about recovery, and give people hope and strength during the ongoing pandemic and lockdown through his words.
We had Anjula Mutanda, a British broadcaster, social scientist, counselling and relationship psychologist, life coach and celebrity therapist share her personal story of facing trauma and recovering from it. She talked about how one can find positivity in the face of a threat.
We found a topic covered by Dr Regina Sala highly relevant to current times. She spoke about the impact of lockdown on obesity and mental health in young people.
A thought-provoking presentation was delivered by Dr Tim Leighton, Director of Professional Education and Research at Action on Addiction rehabilitation centre. He emphasised that in order to improve our treatment models, we don't just need to know 'what works', but 'how it works' – how people respond to the treatment (or not) enabling them to make transformative changes from addiction into recovery.
Every auditorium had an in-built chatroom to facilitate live conversations among the audience and allow Q&A sessions after every scheduled talk by experts and speakers.
What Do We Think About iCAAD?
Nowadays, people are struggling with so many issues, such as suicide, gambling addiction, anger, anxiety, depression, and many more. The ongoing pandemic has only aggravated the situation. By utilising platforms like iCAAD, professionals working in the field of mental health and addiction can network and share their findings, and the audience can take the sum of their experiences back into their communities to solve mental health and addiction issues.
Here is what our CEO thinks about iCAAD and how it contributes towards RehabPath's mission:
"iCAAD continues to be one of the best addiction and mental health conferences out there. Our team always benefits from the educational tracks as well as the connections made. We were excited for the opportunity to exhibit and support the work this year, especially as they transitioned to a completely new online format for 2020. We've been saying to anyone that will listen that the mental health consequences of the COVID-19 pandemic are growing and will continue to be massive, and the focus of the iCAAD conference was aligned with that thought as well. "We're all in this together" couldn't be more accurate when talking about the mental health community and the work in front of us". — Benjamin Camp, CEO, RehabPath
The undiluted enthusiasm of the participants amid Covid-19 pandemic and lockdown, the diversity of exhibitors, and meaningful conversations made the first online conference by iCAAD successful. We look forward to more trailblazing perspectives and insights in the future from iCAAD.