Women-only Rehabs in India 
Reviewed by: Rajnandini Rathod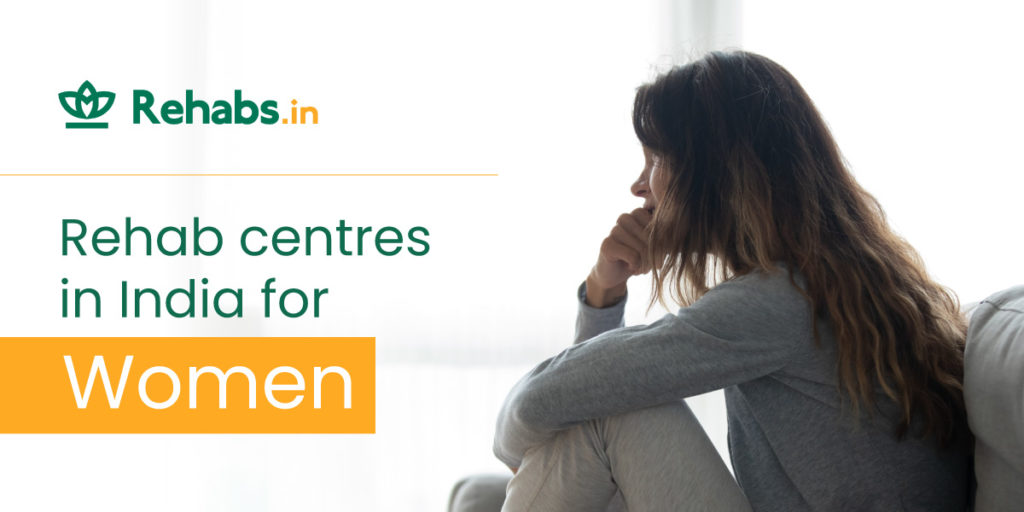 Addiction is often seen as a problem that only men go through. Sadly, even research on addiction primarily focuses on males. In the US, it is estimated that about 42% of drug users are women. Though addiction is more prevalent in males, the difference is not large.
There are many more challenges that women face in their journey through addiction. Although a major chunk of the people that need de-addiction treatment is women, they often do not seek treatment. In this blog, we share some of the few rehab centres in India that only cater to women, along with their contact details.
Why are women not seeking treatment?
Domestic responsibilities: In a traditional Indian household, women have additional family responsibilities. This might make it difficult for them to set time aside for treatment.
Financial dependence: A lot of women in India are homemakers. They would often not be able to fund their own treatment. In general, women's health is often ignored in these settings. Being in a patriarchal culture for many years, they tend to put their family's well-being over their own.
Stigma. Every person, irrespective of gender, faces this stigma against addiction and mental illnesses. But women tend to experience this on a deeper level than men. This is because women are seen as a motherly, pure, and morally upright gender. Since many people see addiction as a moral problem, they tend to shame and disregard women who might be taking drugs or seeking help for the same.
Unique concerns. Since most centres have a majority of male patients, they do not specialise in the unique concerns of women. Working on the root cause of addiction is important, which might differ for men and women. Women often use substances to cope with domestic violence, abuse or other family issues. Specialised care is required to deal with these concerns.
Women also have a lot of unique health concerns and needs. For example, reproductive health problems, child care, and mental health challenges.
Women-only rehab is capable of understanding these issues and addressing them in the right way. Also, people who have been through domestic or sexual abuse might feel more comfortable around women. In most of these centres, even the staff is mostly women-only.
List of Women-only Rehabs in India
Sukoon Villa Foundation
Based in Delhi, Sukoon Villa Foundation is one of the very few residential rehabilitation centres that are only for women. They address their patients as angels and celebrate every little achievement they make on their path to recovery. "Sharing her journey of Recovery with the young members of our Foundation, she inspired all the angels," says one of the captions of their recovery stories.
They treat different services like drug addiction treatment, harm-reduction and detox. These services are provided by their mental health professionals. Along with traditional psychotherapy, they also use spiritual therapy and music therapy. The treatment length is approximately 6-7 months for de-addiction. The basic pricing is based on accommodation – 25k per month for AC rooms and 20k per month for Non-AC rooms.
Contact details: +91 98710 50596
Or you can reach out to them by filling out the enquiry form here. 
NIMHANS Centre for Addiction Medicine Women's Wing
National Institute of Mental Health and Neurosciences (NIMHANS), Bangalore, is one of the most prestigious institutes in the country when it comes to mental health and neuroscience research. This apex centre also opened a separate wing for Women's de-addiction recovery in 2014, with 20 beds.
They provide treatment for all types of addictions, from tobacco, alcohol, and various drug addictions to behavioural addictions. They have a multidisciplinary team who follows a scientific approach that includes medical treatment and teaching behavioural strategies.
Treatment is started with a few OPD sessions for assessment. The OPD clinic is open on Monday, Thursday and Saturday from 9 a.m. A minimal fee of Rs. 70 is taken for the first session. Follow-ups only cost Rs. 10. Residential rehabilitation is recommended if essential. The charges for inpatient treatment range from Rs. 5 for BPL to Rs. 1000 per day. Group therapy is a major part of inpatient treatment.
Contact details: 080 2699 5360; 080 2697 2203
Or you can reach out to them by filling out the enquiry form here.
Veerangana Rehab
Based in the capital of West Bengal, Veerangana Rehab is a women's only rehab that follows a multi-dimensional approach to treatment. They use techniques from the AA and NA 12 steps program and therapeutic community. They focus on making the patients feel at home in their serene surroundings.
Along with a natural detox and treatment from experts, patients can also reap the benefits of yoga, meditation, games and other recreational activities. They provide treatment for both addictions and mental health illnesses.
Veerangana offers flexible pricing for treatment. The approximate length of treatment is around 6 months. However, it depends on the patient, their history and symptoms, among other factors.
Contact details: +91 99039 87450
Navkiran De-addiction Kendra
This is a government-funded rehabilitation centre in Kapurthala, Punjab, where treatment is available for free. They have two centres, Navjeevan Kendra for men and Navkiran Kendra for women. A team of experts uses a multidisciplinary approach to treat various addictions. The treatment length depends on the initial assessment of the patient.
They are particular about the security in this centre and a female-only staff. They also have additional vocational courses like tailoring and stitching. They consider women's responsibility towards their family and have a provision for bringing their children to the centre.
One of the experts, Dr Sandeep Bhola, says that women are the latent victims of addiction. Data for surveys done to find the prevalence of addiction is usually gathered from rehab centres. These rehab centres primarily cater to male patients. Hence, the reliability of these survey figures is questionable; this is why they opened a Navkiran Kendra to cater to these hidden victims of addiction.
Contact details: +91 92169 33231; +91 92168 33231
Nirmal Niketan Mukthi Sadan
Established in 1992 in the Ernakulam district of Kerela, Nirmal Niketan Mukthi Sadan runs separate rehabilitation centres for men and women. The women-only rehab was started in 2021, with only females on their staff. It was launched by the Social Justice Department, Kerala.
This government-funded centre has a capacity of 20 patients at a time. Unlike most other rehabs, they have an outstanding team of 13 people, which makes a very good patient-to-staff ratio. The treatment plan is approximately 9 months but could vary based on individual cases.
This centre treats various addictions, including behavioural addictions like compulsive mobile phone usage or other mental health problems. They follow the 12 steps approach and also conduct regular group therapy sessions.
Contact details: 048 4294 9060; +91 97441 69084
If you or someone you know is struggling with addiction, be assured that help is available for you. You can see our curated list to browse more treatment centres focusing on women's recovery here. 
Sources:
World Drug Report 2021. (2021). United Nations : Office on Drugs and Crime. https://www.unodc.org/unodc/en/data-and-analysis/wdr2021.html