6 Ways To Effectively Market Your Rehab Centre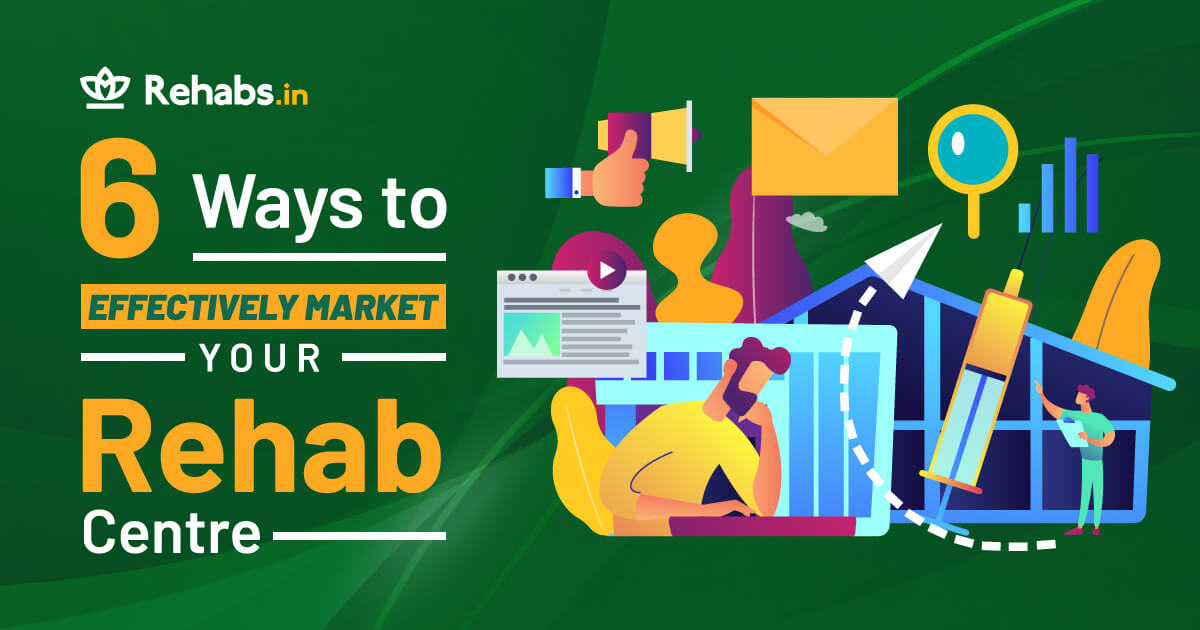 When it comes to the success of any product, service or business, effective marketing is the key! In fact, marketing is as old as human history. However, when it comes to marketing your rehab centre, you cannot use the same age-old and outdated practices. You have to keep in mind that you are selling life-saving services. You have to be sensitive and follow an ethical approach but at the same time ensure profitable numbers.
So how can you make your rehab centre the top-most consideration for people looking out for your services? Here are some points you may consider while drawing out your marketing plan.
1. Get Involved With the People in the Community
When it comes to seeking help with addiction problems, people often rely on word-of-mouth referrals from family, close friends and sometimes the family's general physician. You may create a drug addiction awareness programme and visit localities, colleges and educational institutes in your neighbourhood. You may also ask amateur theatre artists to help you showcase plays on drug addiction and how to seek help. You can also reach out to general physicians, psychologists, and psychiatrists and share pamphlets of your rehab centre which they can pass on to their patients if they need help with addiction. The whole objective is to showcase your rehab centre as a caring and passionate service dedicated to helping people with addiction problems.
2. Get Your Centre Listed With Google and Other Listings
In today's day and age, getting your business on Google is an absolute must. People search for everything on Google and hence you need to be visible here. Your Google Business Page needs to be active and you need to constantly ensure that your happy clients post glowing reviews about your service. The more reviews and ratings your Google Business page receives, the higher your rehab centre will rank on competitive terms like "deaddiction programs", "rehab centres", "addiction treatment", etc in your local area. This is one of the best ways to increase leads for your rehab centre. Other listings you may consider are platforms like Rehabs.in, Justdial, Yellow pages, etc.
Rehabs.in is the largest directory of rehab centres in India with more than 1,500 centres listed on its website.  Moreover, it receives 1,00,000 visitors per month from the de-addiction and mental health community. Getting listed on Rehabs.in can give your centre enhanced visibility and connect you with the right audience for your business. Getting listed on the platform is free of cost, though you can opt for paid advertisement plans to further enhance your centre's visibility.
4. Make Effective Use of SEO, Google Adwords and PPC To Generate New Leads
Search Engine Optimization (SEO), Google Adwords, and Google pay-per-click (PPC) is the trifecta of any effective marketing strategy. Through SEO, you can find the keywords that people use when searching for rehab services. You can use these keywords effectively in your articles and blogs. You can take this a step further by bidding on these keywords/ Google Adwords and the ranking position in the search and use them in combination with PPC. So, if someone searches for "drug rehab therapy service" and you have claimed these keywords/Google Adwords as well as the top search position, then your rehab centre's website will appear at the very top of the search results- more often than not, even above the organic search results. This can make a big difference in generating leads.
5. Use YouTube To Reach a Larger Audience
After Google, YouTube is the second most popular search engine in the world. It has so much potential to help you market your rehab services to a larger audience. Today, many people prefer to see informative and smart videos rather than read lengthy blog articles. You can create short, informative videos about your rehab services. You can have video testimonials of your happy clients, animated videos about drug abuse and de-addiction programs, informative videos on statistics and helpline numbers; there is so much you can do. So, include YouTube in your marketing plan to increase your leads.
6. Use Social Media To Your Advantage
Humans are social animals; hence, social media has become so popular. Almost everyone you know will be on one or the other social media platforms. You can use Facebook and Instagram to not only reach more prospective patients but also do your bit in removing the stigma associated with seeking help for drug addiction and counselling. You can use Twitter to create polls on drug awareness. Through your social media pages, you can maintain top-of-the-mind recall by regular and targeted posts and stories. It would be prudent to have a dedicated employee to handle all your social media accounts and if that's not possible then you can outsource it to an agency that understands your rehab centre's needs.
7. Creating Your Own Unique Selling Proposition
This point may be the last on this list but nevertheless, it is a very important one. Creating your own unique selling proposition (USP) is what will separate your rehab services from the others. From a unique logo to a dynamic website to 24/7 helpline numbers, there are various ways in which you can stand out. Create that one differentiator that separates you from your competition and talk about it everywhere; on your website, on your social media accounts, pamphlets, etc. Let people know why they should choose you. When your rehab centre stands out from the rest, that's when it will be noticed.
We hope this article gives you the clarity that you need to effectively market your rehab centre. Do consider these points when drawing out your rehab centre's marketing plans and we are certain that the leads will start pouring in.