Caregiver stress
Reviewed by: Rajnandini Rathod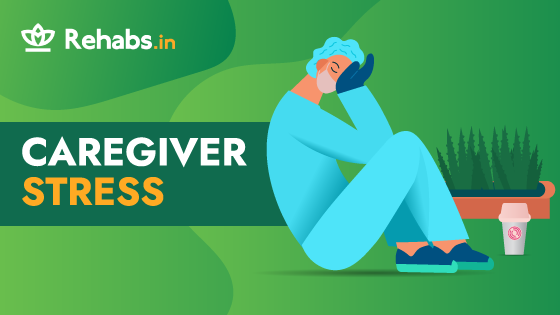 13 Ways to Manage Caregiver Stress & Burnout
Explore practical strategies for caregivers to prioritize self-care, find support, and maintain well-being while caring for loved ones.
Introduction
Taking care of a loved one is a noble yet challenging task that can be emotionally draining. Caregiver stress is a common problem worldwide. This article discusses the significance of managing caregiver stress and offers 13 helpful ways to reduce stress and improve caregivers' well-being.
1. Recognizing Caregiver Stress
It's crucial to develop the ability to identify indicators of caregiver stress and burnout. Such self-awareness enables you to promptly intervene, preventing the situation from deteriorating and initiating the process of enhancing the well-being of both you and the person under your care. The symptoms include
Fluctuations in consuming habits, which include overeating or undereating
Negative emotional experiences like despair, depression, or a sense of isolation
Sleep disturbances, including difficulties falling asleep or excessive sleep
Decline in interest in previously enjoyable activities
Resorting to alcohol and medications or sound asleep aids in trying to alleviate distress
An increase in stress leads to burnout, making it difficult to maintain a sense of purpose in working so hard to provide care. Research has shown that caregivers use both prescription drugs and illegal substances more than non-caregivers.
2. Build a Support System
Asking for and accepting help are not indications that you cannot handle caregiving properly for your loved one. The emotional and physical challenges of providing care can overwhelm even the most resilient individuals. Numerous resources and aids are available to support both your loved one and your well-being, preventing you from burnout.
To begin with, you have the option to join a caregiver support group. In these groups, you can exchange experiences, gather valuable caregiving insights, and receive encouragement from those confronting similar challenges as yourself. Visit a doctor or seek professional help for vaccinations and check-ups. Discuss your caregiving role and any concerns or symptoms.
3. Set Realistic Expectations
As a caregiver, it's common to become immersed in the daily responsibilities of caregiving, potentially sidelining your ambitions and dreams. A study published in the Journal of Gerontological Nursing revealed that caregivers who established personal objectives experienced elevated self-esteem and expressed a greater sense of mastery in their caregiving responsibilities, distinguishing them from caregivers who did not define specific goals.
Setting goals can serve as a valuable tool, enabling you to establish concrete, attainable objectives that assist in handling caregiving difficulties and enhancing your overall quality of life. After setting your goals, concentrate on the things that matter most to you, and create a plan with clear steps to achieve them. Make small, easy changes that fit your daily routine.
4. Prioritize Self-Care
All mental health issues involve a connection to stress. When we're overwhelmed, it's typical to feel emotional and psychological strain. Self-care aims to undo the harm from exhaustion, negative feelings, and feelings of helplessness. Here are some of the potential impacts of self-care on your well-being:
Reduce emotions of hopelessness and depression.
Enhance your sense of self-efficacy.
Boost your energy levels.
Foster creativity and problem-solving abilities
Enhance focus when handling crucial caregiving duties.
Improve the quality of sleep.
Add meaning to your life.
Caregivers often grapple with constant and unique stressors. To be the nurturing presence you aspire to be, integrating self-care into your daily routine is crucial.
5. Time Management
One of the hardest parts of being a family Caregiver is time management. Most Caregivers are juggling multiple responsibilities, which can make it easy to feel overwhelmed by a growing list of tasks. Here are some strategies to balance caregiving.
Have reasonable expectations by introspecting.
Accept help and navigate time management.
Delegate tasks to specific people.
Adjust how tasks are done and explore new ways.
Make lists & prioritise what you need to do.
Use of technologies that may save time.
Make time for self-care
6. Seek Professional Help
Many caregivers are unprepared for the demanding role, often due to sudden responsibilities. And those who foreseen it coming underestimated the level of commitment expected from them. It's important to know when to ask for help. The best time to reach out is before you feel too stressed, a feeling known as caregiver stress.
Therapy helps isolated, overwhelmed, anxious, or depressed caregivers build resilience, preventing burnout and associated mental, emotional, and physical health issues. Therapy equips individuals to better manage grief, stress, and feelings of isolation.
7. Practice Mindfulness and Relaxation
As a family caregiver, you face the risk of experiencing stress and, even worse, burnout. Mindfulness is a valuable technique for alleviating caregiver burnout and compassion fatigue. Here are some of the techniques to help you relax and stay grounded.
Take deep breaths
Be present
Be kind to yourself
Practice gratitude
Connect with others
While caregiving is always challenging and stressful, experiencing burnout is not an unavoidable outcome. Recognising the broader perspective and allowing yourself not to
become overwhelmed by the need to fix everything can provide significant relief. Moreover, it can enhance your effectiveness as a caregiver.
8. Maintain Hobbies and Interests
Caregiving is physically and mentally taxing, whether you're juggling it with a job or it's your full-time role. Maintaining your interests and passions is crucial, especially as a caregiver. It preserves your identity, preventing you from becoming solely defined by the caregiving role.
Research indicates that people engaged in purposeful pursuits experience reduced stress levels and generally enjoy greater happiness. There are various types of hobbies you can choose based on the kind of need you have, such as:
Relaxing hobbies like – Gardening, baking, yoga, or photography
Distracting hobbies like – watching TV, playing video games or sports classes
Engaging hobbies like – reading, writing, arts & crafts or puzzles
9. Stay Informed
An informed caregiver is not only more capable of delivering quality care to a senior family member but also recognises the significance of self-care. You don't have to become a caregiving expert to offer excellent care, but enhancing your knowledge in the following areas can be beneficial:
Grasp changing needs – physical, mental, and emotional.
Learn strategies for altered health and behaviour.
Handle daily tasks: eating, bathing, dressing, grooming.
Inform family and friends about health changes.
Comprehend legal and financial safeguards.
Collaborate with healthcare pros for medication tracking.
Seek assistance from friends, family, and home care services.
The greater your understanding of caregiving in advance, the more equipped you will be to provide excellent care for your loved one while also tending to your well-being.
10. Set Boundaries
Building healthy boundaries is essential for improving well-being and promoting self-care. It's a rational response to unmet needs and excessive demands. Let's discuss boundaries step by step to eliminate distress and guilt.
Embrace emotions for self-control and boundary-setting.
Spot and address stress early to prevent burnout.
Align boundaries with goals for effective caregiving.
Seek support without guilt to protect health.
Politely say no, respecting your limits.
11. Engage in Positive Self-Talk
Positive talks uplift your self-esteem and foster a positive outlook on yourself and your life. The encouraging inner voice always sees the bright side of things.
To reduce stress, work on reducing the amount and frequency of negative self-talk while increasing positive self-talk. Here are 4 techniques to try:
Interrupt negative thoughts with "stop" when you notice yourself saying something negative.
Use milder wording to make an experience less intense.
Change self-limiting statements by asking more questions.
Address yourself by name to help with positive encouragement.
Self-compassion is vital for caregivers, enabling them to forgive themselves for their errors and provide self-care for the challenges in their caregiving role.
12. Connect with Nature
Being in natural settings can alleviate stress and anxiety, enhance your mood, and elevate your sense of happiness and overall well-being. Research indicates that your environment affects your stress levels and, consequently, your body's systems.
Spending time in nature or looking at natural scenes can diminish negative emotions like anger, fear, and stress while promoting positive feelings. Moreover, nature aids in managing pain. Our genetic inclination to find natural elements like trees, plants, and water captivating can absorb our attention and divert it from feelings of pain and discomfort.
13. Plan for the Future
Many people often confront the need for long-term care when a family member requires it urgently. This situation can result in limited choices due to a lack of information and insufficient resources to access the desired level of care. Preparing for long-term care in advance empowers you to have more control over future decisions.
It's important to remember that the cost of long-term care varies by location. When developing your long-term care plan, it's crucial to consider the potential negative financial consequences this might have on your family. Questions to ponder include whether your family caregiver might need to leave their job and whether they'll have to cover certain expenses from their own pocket.
Sources:
Brethren Village Retirement Community. (2015, August 12). Importance of long-term care planning. https://www.bv.org/virtual-village/senior-care-reference-materials/importance-of-long-term-care-planning/#:~:text=Planning%20ahead%20for%20long%2Dterm%20care%20also%20means%20less%20emotional,alone%20when%20the%20time%20comes
Caregiver stress. Caregiver stress | Office on Women's Health. (n.d.). https://www.womenshealth.gov/a-z-topics/caregiver-stress
Caregiver's guide to setting goals. VNS Health. (n.d.). https://www.vnshealth.org/patient-family-support/health-library/caregivers-guide-to-setting-goals/
Hands, A. (2023, May 31). Why should family caregivers be well-informed?. Assisting Hands of Potomac, Maryland. https://assistinghands.com/37/maryland/potomac/blog/why-caregivers-need-to-educate-themselves/
Hobby. (2022, September 6). Family caregivers: Finding the courage to ask for help. Amada Senior Care. https://www.amadaseniorcare.com/2020/01/family-caregivers-finding-the-courage-to-ask-for-help-when-you-need-it/#:~:text=Asking%20for%20help%20demonstrates%20the,possibly%20even%20improve%20your%20relationship
Hopkins, J. (n.d.). Long-Term Care Planning: It's about family. Investopedia. https://www.investopedia.com/insurance/longterm-care-planning-its-about-family/
How does nature impact our wellbeing?. Taking Charge of Your Health & Wellbeing. (n.d.). https://www.takingcharge.csh.umn.edu/how-does-nature-impact-our-wellbeing
How mindfulness can help caregivers. Child Mind Institute. (2023, January 24). https://childmind.org/article/how-mindfulness-can-help-caregivers/
Maintaining boundaries as a caregiver: GO from guilt to glow. Mental Health America. (n.d.). https://mhanational.org/maintaining-boundaries-caregiver-go-guilt-glow
Mayo Foundation for Medical Education and Research. (2023, August 9). Practical solutions for caregiver stress. Mayo Clinic. https://www.mayoclinic.org/healthy-lifestyle/stress-management/in-depth/caregiver-stress/art-20044784
Melinda Smith, M. A. (2023, February 24). Caregiver stress and Burnout. HelpGuide.org. https://www.helpguide.org/articles/stress/caregiver-stress-and-burnout.htm
Name. (n.d.). 4 ways to reduce caregiver stress with positive self talk. DailyCaring. https://dailycaring.com/3-ways-to-reduce-caregiver-stress-with-positive-self-talk/
Pennmedicine.org. (n.d.). https://www.pennmedicine.org/updates/blogs/health-and-wellness/2019/december/signs-of-caregiver-stress
Setting goals as a family caregiver: How & why to set goals for 2023. California Caregiver Resource Centers. (2022, December 27). https://www.caregivercalifornia.org/2022/12/27/setting-goals-as-a-family-caregiver-how-why-to-set-goals-for-2023/
Team, G. E. (n.d.). Caregiver mental health issues. GoodTherapy. https://www.goodtherapy.org/learn-about-therapy/issues/caregiver-issues#:~:text=Therapy%20can%20be%20beneficial%20for,who%20lack%20support%20from%20others
Team, T. H. E. (2021, April 26). Caregiver burnout: Symptoms and treatment. Healthline. https://www.healthline.com/health/health-caregiver-burnout#signs-and-symptoms
The Light Program. (2017, June 13). Importance of Self Care for caregivers. https://thelightprogram.pyramidhealthcarepa.com/importance-self-care-caregivers/
The National Council on Aging. (n.d.). https://www.ncoa.org/article/hobbies-for-caregivers-to-ease-stress-make-life-better
TheKey. (2022, September 12). How to use mindfulness to help with caregiver stress and Burnout. TheKey.
https://thekey.com/learning-center/how-to-use-mindfulness-to-help-with-caregiver-stress-and-burnout
What are time management strategies for caregivers?. ALABAMA CAREGIVER CONNECT. (n.d.). https://caregiverconnect.ua.edu/caregiving-101/what-are-time-management-strategies-for-caregivers