Is hybrid work better for our mental health?
Reviewed by: Rajnandini Rathod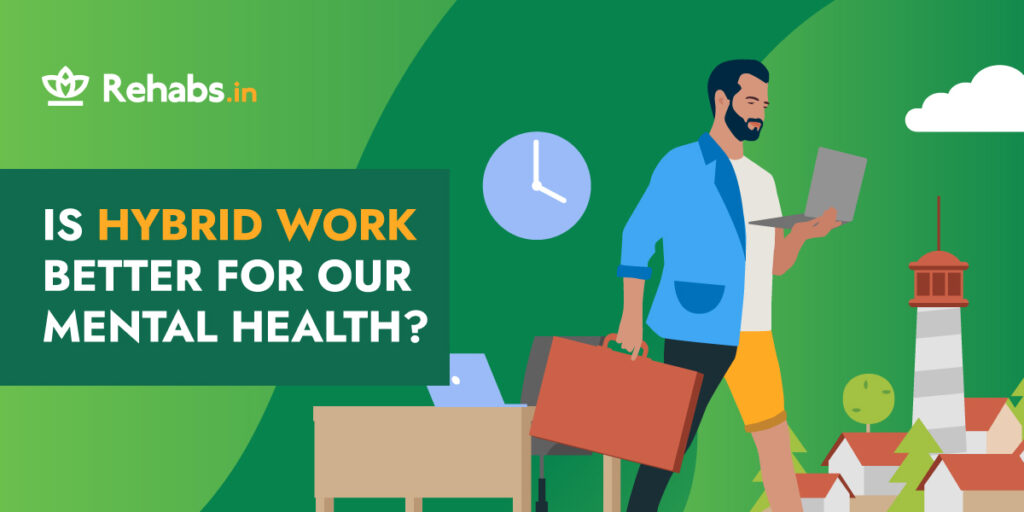 It's 2020. Your boss just called, asking you to stop coming to the office.
No, you're not laid off.
Instead, you've been asked to work remotely on account of the global pandemic lockdown.
Fast forward to 2023. The lockdown has been completely lifted. You can go back to your workplace.
It feels good to be back. You realise that although you are now accustomed to working remotely, you have also really missed working with your colleagues in the office – or just stepping out of the house to work.
What you would like is the best of both worlds: a hybrid working model.
The good news is that's what your boss prefers as well.
According to a McKinsey survey of 100 executives at the C-suite, Vice President to Director level across industries and geographies, 90% of the respondents said that they are switching to the hybrid work model permanently.
Moreover, a Work Trend Index report shows that over 70% of workers want flexible remote work options, with over 65% craving in-person time with their colleagues. Hence, business leaders are now looking even to revamp their workspaces to accommodate the hybrid work model.
So, what is hybridity, and how does it affect business?
Researchers define hybridity in the workspace as a working model that combines the physical work arrangement and the remote work system. In simple words, you work on-site on some working days, and on other days, you work remotely via the Internet.
Data shows that hybrid work has definite financial advantages for a business. In fact, research also shows that companies that adopt a hybrid workplace stand to save thousands of dollars for each employee who works remotely half of the time. While the saving comes mainly from increased productivity, it also arises from real estate-related savings and decreased absenteeism.
But while the hybrid model may be good for business, is it really good for you – especially for your mental health?
Let's take a look.
Effects of the hybrid work model on mental health
According to a study by researchers at Simon Fraser University and Toronto Metropolitan University, the hybrid work model is better for employee mental health than the conventional in-person format or even the fully remote model.
Published in the International Journal of Environmental Research and Public Health, the study provides self-reported mental health scores from a survey of 1,576 Canadian workers aged 16 and older during the third wave of the pandemic. The research reveals that employees following a hybrid work schedule reported higher self-reported mental health scores compared to those working fully in-person or completely from home.
Moreover, a study by Salesforce reveals that nearly 60% of workers feel that the hybrid work model has improved their psychological well-being mainly because they were able to manage personal work without the pressure of rigid work schedules.
In a Gallup survey of hybrid workers, over 50% of the respondents reveal the following key advantages of hybrid work environments:
Improved work-life balance
More efficient use of time
Freedom to choose place and time of work
Less work burnout or fatigue
Higher productivity
However, several other studies reveal that a hybrid work environment could also negatively affect employee's mental health in some of the following ways:
1) Technostress: Studies show that remote working could lead to technostress, a psychological illness caused by working with computer technology on a daily basis. Researchers believe that this could be the case, especially for older employees. This indicates that forcing some employees to work from home using technology on a daily basis, especially when they are not used to it, might affect their mental health.
2) Burnout: Employees following the hybrid model have also reported burnout. According to a McKinsey report, employees who face burnout because of the hybrid work model have one thing in common: they have leaders who still do not have a specific hybrid work plan.
3) Anxiety: According to IBI's research, completely remote and hybrid work is associated with an increased likelihood of anxiety and depression symptoms compared to on-site work. Research also shows that employees mainly face anxiety because of the absence of a hybrid work plan. Moreover, people who feel anxious about hybrid work are also the ones that are burned out the most. Anxiety is known to reduce job satisfaction, negatively impact interpersonal relationships with peers, and reduce work performance.
4) Demographical differences: A study shows that baby boomers and Gen Z employees are not hyped about the hybrid work model compared to Millennials. In fact, around 60% of Gen Zers, many of whom often do not have the space to effectively work at home or remotely, feel the office setting is the most suitable to support their well-being at work.
Hence, while hybrid work could definitely be the sweet spot for many when it comes to finding the perfect work model, it also needs to be customised to individual and organisational needs.
Before we dig into the tips for organisations and individuals to make the most of the hybrid work model, let's first take a look at the different types of hybrid models.
A literature review on the hybrid work model reveals the existence of four types of hybrid models: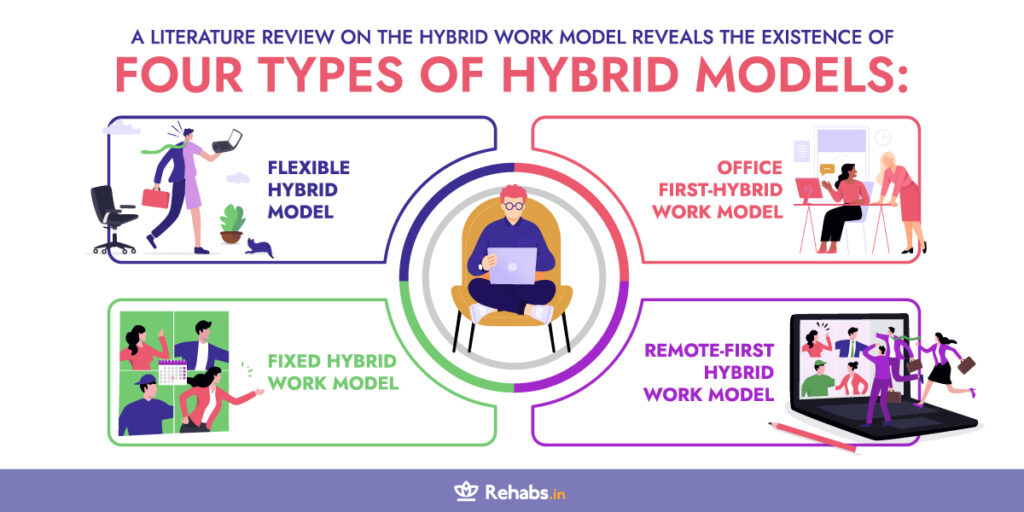 1) Flexible hybrid model: Employees choose where (on-site or remotely) and when they work based on their priorities for the day.
2) Fixed hybrid work model: The organisation sets the days and hours employees can work remotely or on-site.
3) Office first-hybrid work model: Employees are expected to come to the office but also have the flexibility to select a few days in a month or week to work remotely.
4) Remote-first hybrid work model: Employees work most of the time remotely but occasionally visit the workplace for team building, collaboration, and other related activities.
 A few tips for organisations on making the most of your hybrid working model. 
1) Develop a hybrid work plan: Nearly two-thirds of organisations are vague about their post-pandemic hybrid work model. Businesses need to address their employees' hopes and fears with regard to the future. This can also significantly help reduce anxiety and burnout among their employees. Organisations with clear communication are already seeing benefits in terms of employee well-being and productivity.
2) Select a hybrid work model with team inputs: In the long term, organisations that leverage the benefits of the hybrid work model will emerge as the clear winner. A report by Gallup suggests that organisations start asking their employees or management to give them input through questions such as: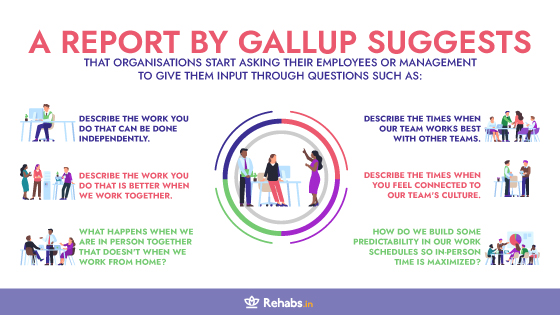 Describe the work you do that can be done independently.
Describe the work you do that is better when we work together.
What happens when we are in person together that doesn't when we work from home?
Describe the times when our team works best with other teams.
Describe the times when you feel connected to our team's culture.
How do we build some predictability in our work schedules so in-person time is maximized?
A few tips for individuals on making the most of your hybrid working model.
1) Set work boundaries: "Most people find the hybrid model to be twice as stressful because it continues to blur the lines between work and home," according to Tanya Dalton, author of The Joy of Missing Out. "We can end up doing more and working more hours for the company than we previously did when we went to office every day," she warns. Lack of boundaries between your professional life and personal life can lead to stress and spoil relationships at home as well as the workplace. That's why setting boundaries and clearly defining the lines between work and home can go a long way to protect your mental health in a hybrid work environment
2) Embrace change: With an unpredictable geopolitical scenario and the risk of another global pandemic still not completely out of the way, welcoming the new normal of hybrid working is no longer a choice. However, taking important steps to successfully embrace the hybrid work model, especially when it involves making major life changes, can be challenging.
If you or someone you know is going through a negative effect or needs help towards transitioning to a hybrid work model, reach out to a mental health professional. You can browse our directory of treatment centres across India here.
Sources:
Igbal, Kanwar Muhammad Javed; Khalid, Farooq; Barykin, Sergey Evgenevich (2021) Hybrid Workplace: The Future of Work Research Gate https://www.researchgate.net/publication/353464236_Hybrid_Workplace_The_Future_of_Work
Dahlia Baker (2021) The Future Of Work Is Hybrid Examensarbete Inom Samhällsbyggnad, Avancerad Nivå, 30 Hp , Stockholm, Sverige 2021 chrome-extension://efaidnbmnnnibpcajpcglclefindmkaj/http://www.diva-portal.org/smash/get/diva2:1573134/FULLTEXT02.pdf
Gratton, Lynda How to Do Hybrid Right (2021) Harvard Business Review https://hbr.org/2021/05/how-to-do-hybrid-right
Alexander, Andrea; Cracknell, Rich; De Smet, Aaron; Langstaff, Meredith; Mysore, Mihir, and Ravid. Dan (2021) What executives are saying about the future of hybrid work Mckinsey & Company https://www.mckinsey.com/capabilities/people-and-organizational-performance/our-insights/what-executives-are-saying-about-the-future-of-hybrid-work
Bodner, Aidan; Ruhl, Leo; Barr, Emily; Shridhar, Arti; Skakoon-Sparling, Shayna; George Card, Kiffer (2022) The Impact of Working from Home on Mental Health: A Cross-Sectional Study of Canadian Worker's Mental Health during the Third Wave of the COVID-19 Pandemic International Journal of Environmental Research and Public Healthhttps://www.mdpi.com/1660-4601/19/18/11588
Innstrand, Siw Tone; Christensen, Marit; Grødal, Karoline; Banks, Cristina (2022) Within- and between-person changes in work practice and experiences due to COVID-19: Lessons learned from employees working from home, hybrid working, and working at the office Sec. Organizational Psychology https://www.frontiersin.org/articles/10.3389/fpsyg.2022.948516/full
Alexander, Andrea; De Smet, Aaron; Langstaff, Meredith; Ravid, Dan (2021) McKinsey & Company What employees are saying about the future of remote work https://www.mckinsey.com/capabilities/people-and-organizational-performance/our-insights/what-employees-are-saying-about-the-future-of-remote-work?cid=other-soc-twi–mck-oth-2104–&sid=4760542959&linkId=117174592
Jones, Clifford (2017) How anxiety hurts workplace productivity The Business Journals https://www.bizjournals.com/bizjournals/how-to/growth-strategies/2017/10/how-anxiety-hurts-workplace-productivity.html
Vidhyaa, B; Ravichandran, Dr. M (2022) A Literature Review on Hybrid Work Model International Journal of Research Publication and Reviews chrome-extension://efaidnbmnnnibpcajpcglclefindmkaj/https://ijrpr.com/uploads/V3ISSUE7/IJRPR5648.pdf
Wigert, Ben; White, Jessica (2022) The Advantages and Challenges of Hybrid Work Gallup https://www.gallup.com/workplace/398135/advantages-challenges-hybrid-work.aspx#:~:text=The%20greatest%20advantages%20of%20hybrid,are%20most%20effective%20for%20them.
Nimrod, Galit (2020) Technostress in a hostile world: older internet users before and during the COVID-19 pandemic Aging Ment Health https://pubmed.ncbi.nlm.nih.gov/33334143/
(2022) Hybrid work, more holistic approach, better for mental health, studies find Simon Fraser University https://www.sfu.ca/sfunews/media/media-releases/2022/09/hybrid-work–more-holistic-approach–better-for-mental-health–s.html
(2021) 72% of Employees Plan to Change How They Work Post-Pandemic Salesforce https://www.salesforce.com/news/stories/employees-plan-to-change-how-they-work-post-pandemic/
(2023) The Financial Advantages of A Hybrid Work Model https://www.forbes.com/sites/glebtsipursky/2023/01/18/the-financial-advantages-of-a-hybrid-work-model-a-hybrid-work-experts-perspective/?sh=fcd71ea4a510
Remote and Hybrid Work Associated with Higher Rates of Anxiety and Depression, According to Integrated Benefits Institute Analysis Integrated Benefits Institutehttps://www.prnewswire.com/news-releases/remote-and-hybrid-work-associated-with-higher-rates-of-anxiety-and-depression-according-to-integrated-benefits-institute-analysis-301751119.html